Colorado State University has released its new hurricane forecast for the 2021 Atlantic season, and it has lowered the numbers from the previous prediction.
The new Atlantic forecast is out, and it still calls for an above-average season in the Atlantic basin, but the number of storms has been lowered since the last prediction in July.
Colorado State University's tropical meteorology department's last forecast called for 20 named storms, nine hurricanes and four major hurricanes in the Atlantic.
Now, they're saying we're looking at less.
We now could see 18 named storms and eight hurricanes. The good news is the number of major hurricanes has not changed. We're still expecting around four.
Keep in mind that these new numbers include the five storms we have already seen this season.
The new number of possible storms also contradicts the new forecast by NOAA, which increased its numbers since its last forecast.
The Colorado State University seasonal tropical forecast for the Atlantic basin, led by Dr. Phil Klotzbach, often offers a glimpse at how the hurricane season could lean.
Currently, sea surface temperatures averaged across most of the tropical Atlantic are now near to slightly above normal, and most of the subtropical North Atlantic remains warmer than normal. Warmer temperatures are a key factor in tropical development.

While an above-average season appears more likely than not, that shouldn't affect how you prepare for the hurricane season. While the overall environment appears favorable for an above-average hurricane season now, those conditions could easily change.
One of those changeable conditions could be the ENSO cycle and whether or not we'll have a La Nina this summer. If an El Nino (warmer-than-average sea-surface temperatures in the tropical Pacific Ocean) were to form, it'd likely increase wind shear and reduce tropical activity in the Atlantic.
"You never really know with ENSO, so we could see a sneaky quick El Nino development," Dr. Klotzbach said. "The (Climate Prediction Center) upped the chances for El Nino from 10% to 13%."
It's also exceptionally difficult to know where storms will go if they form. While a bunch of storms could develop, they may miss land or the U.S. entirely.
To account for all of these uncertainties, Spectrum News Chief Meteorologist Bryan Karrick frequently emphasizes the saying "don't be scared, just be prepared".
Last season, of course, featured a record-setting 30 named storms, beating that record from 2005.
Though there are a few asterisks behind that named storms figure, there's little doubt that 2020 was an exceptional year. Not only did 30 named storms develop, 13 hurricanes and six major hurricanes also formed in the Atlantic basin a year ago.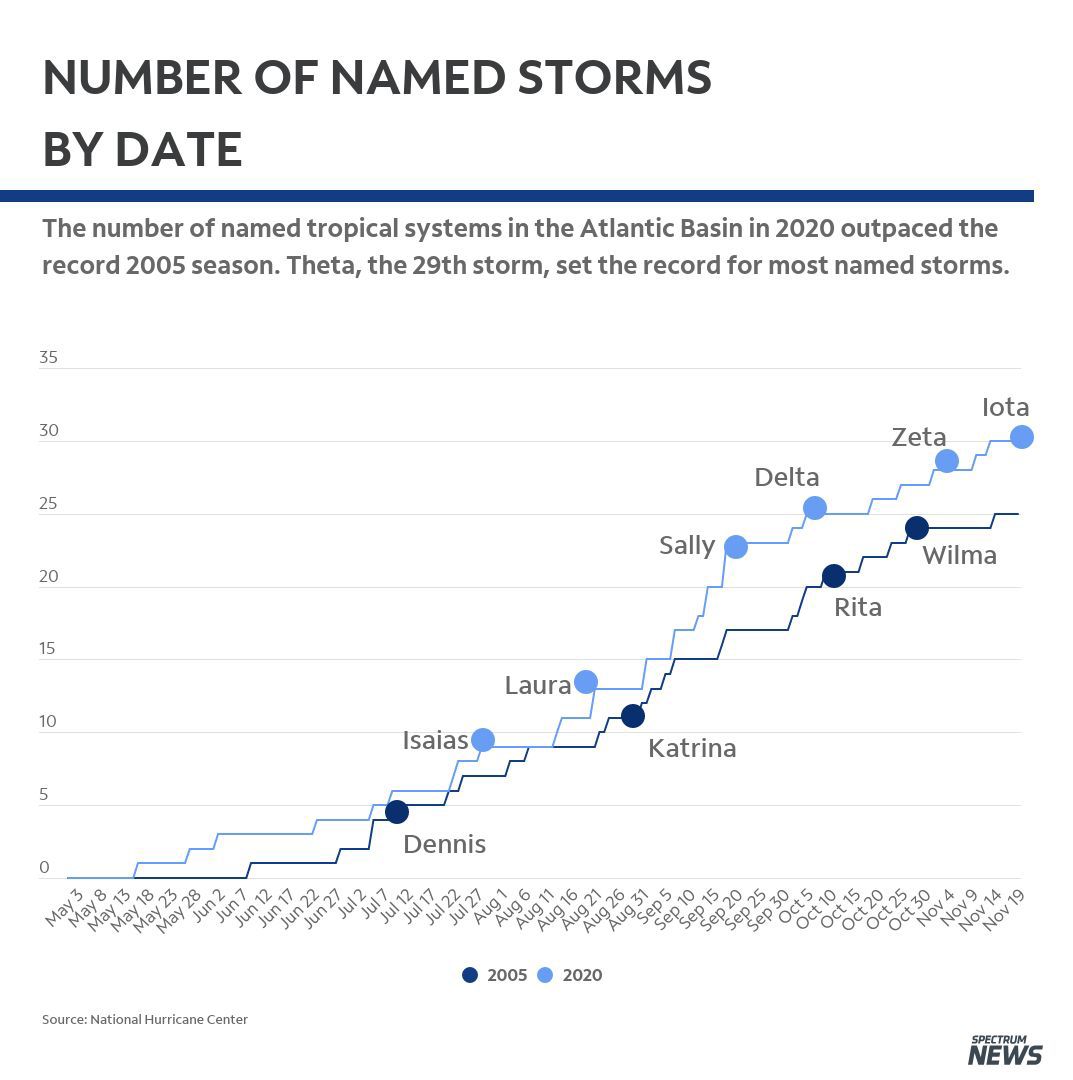 Buoyed by warm sea-surface temperature and low wind shear, 2020's storms started at a record pace in July and never really let up through the peak months of August, September and October.