Since the 9/11 attacks two decades ago, responding to terrorism and preventing attacks have become an important part of the FDNY'S training and duties.
"We do have an actual bureau, counterterrorism and disaster preparedness," said FDNY assistant chief Brendan McSweeney. "They have high-level clearance. So they are informed daily, briefings to know what, if any threats there are."
---
What You Need To Know
FDNY unveils airplane it has for terrorism training


Fire department has its on counterterrorism unit


NYPD has officers who imagine outlandish plots to prevent terrorism
---
On that Tuesday morning, in a matter of minutes, 343 members of the FDNY were killed when the World Trade Center towers collapsed after being hit by planes.
At the fire academy, the department now has its own plane: a training tool to help save lives. It's a section of an American Airlines Airbus A321.
"As part of drilling we are going to put a smoke machine inside, no live fire because we don't want to destroy it," said McSweeney, who is the chief of training at the fire academy on Randall's Island. "We will be able to do search and rescue inside."
Similar training goes on for mass transit.
"This is the actual simulator area. And we were able to obtain an old subway car," said McSweeney.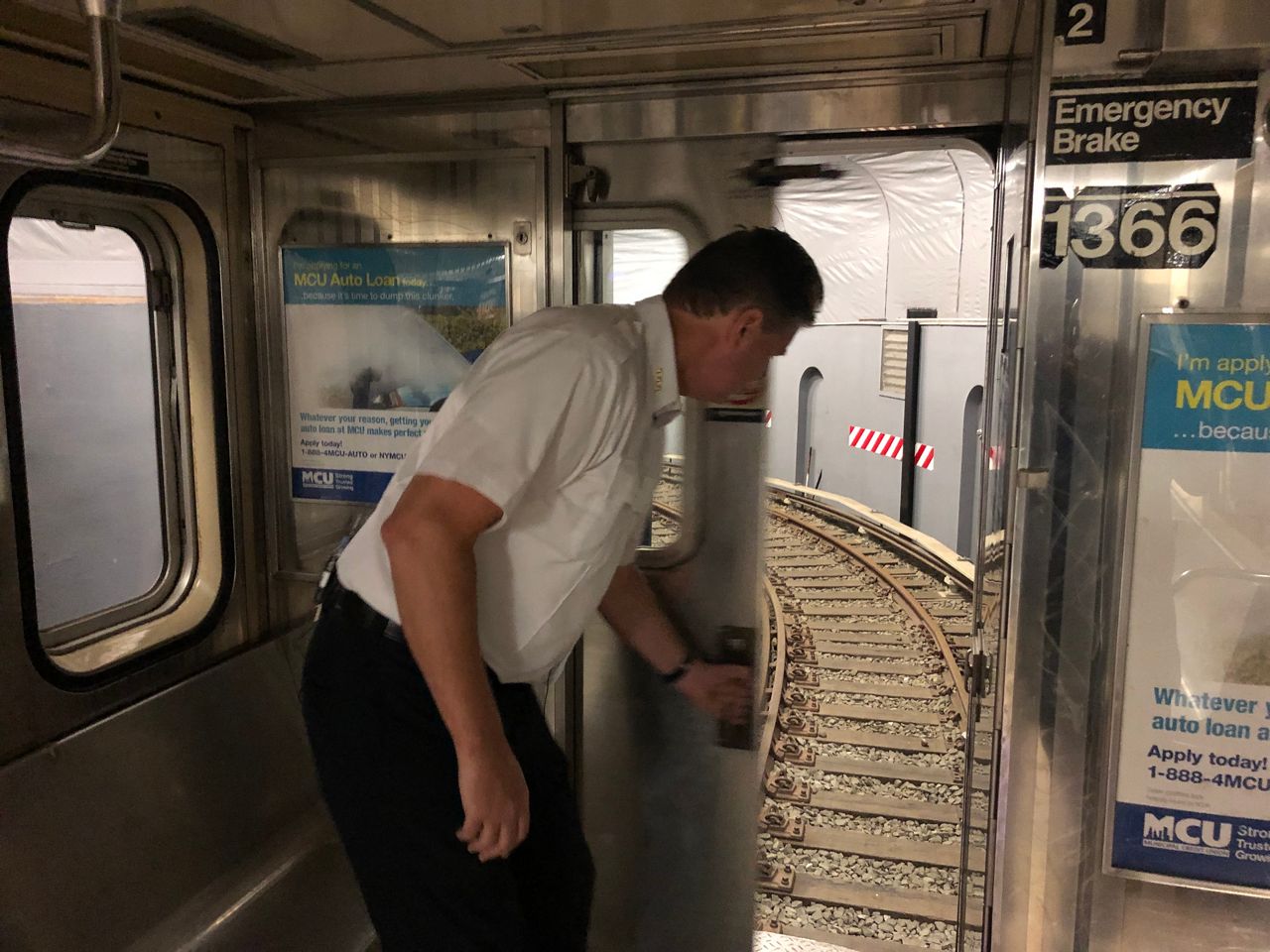 An old subway car assists with training efforts.
Fire lieutenant Brian McNamara explained more about the subway terrorism training.
"The NYC police department will come out here and run counterterrorism drills," said McNamara. "The United States Army is here with their hazmat team and our hazmat unit will run them through. We will smoke out the tunnel, have a simulated terrorism attack in the subway."
The FDNY also has a mass casualty rescue task force.
Trained Firefighters and EMTs wear bullet resistant vests to save victims during active shooter cases.
For Fire Commissioner Daniel Nigro, the 20th anniversary of the attacks is a time to reflect, but also a time to look to the future when it comes to protecting the city.
The FDNY command center in Brooklyn is helping to do that.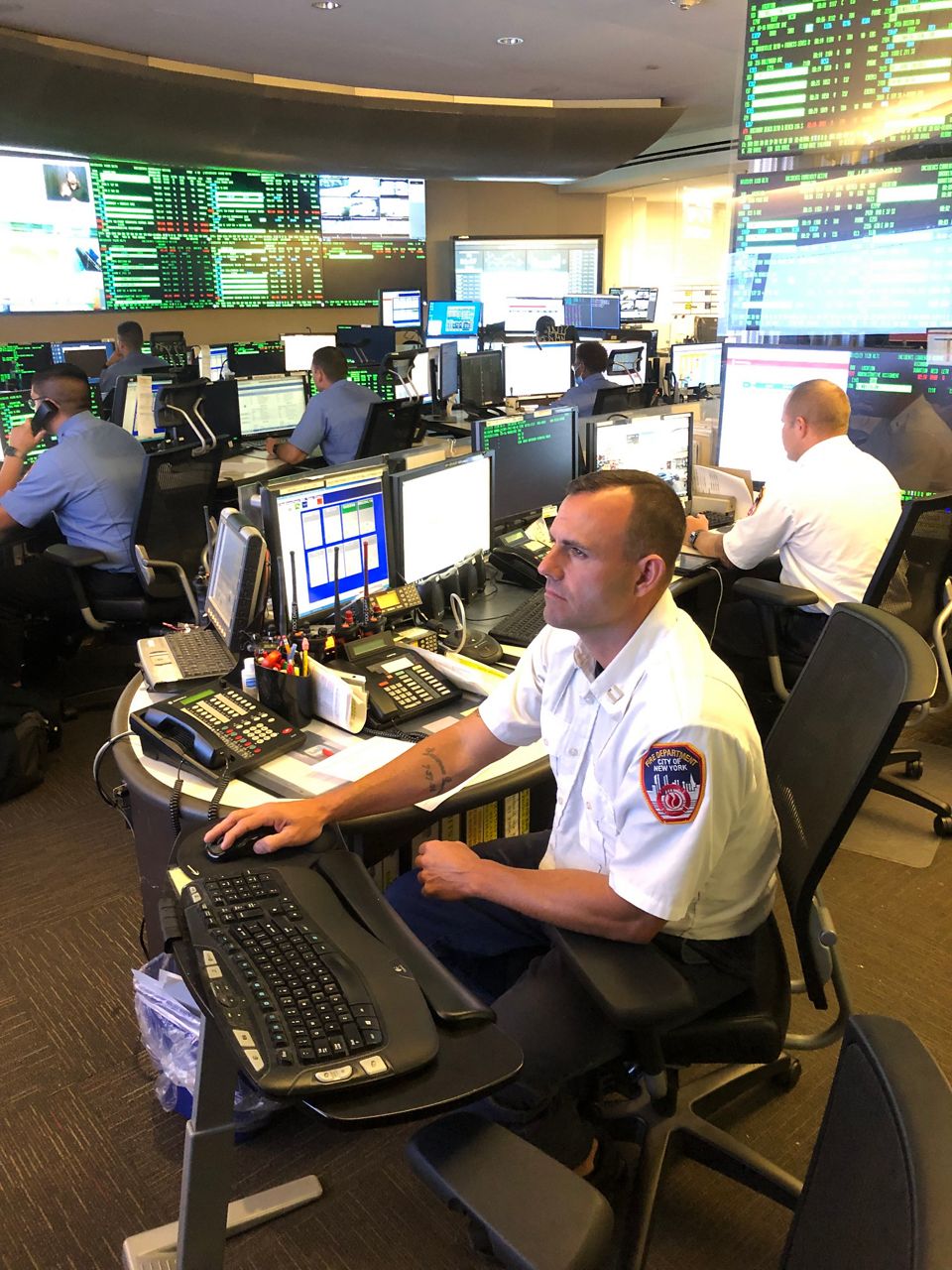 The FDNY's Command Center in Brooklyn.
"They can pick up what's coming from different camera feeds from the police department," Nigro said. "All of these other screens tell us what's going on fire and EMS wise."
The fire commissioner, who was the chief of operations in 2001, knows he is lucky to be alive. So many of his colleagues and friends who responded with him on September 11th didn't make it out.
"9/11 will always be the best day and the worst day for the FDNY," Nigro said. "The best day meaning the number of people rescued by the brave members of the department. Of course the worst day because of the losses that occurred that day."
Nigro went on to say, "I do not get nightmares but the images have not left my head of what happened. And the images of the destruction that day."
The memory of trying to rescue people out of the burning Twin Towers is haunting for the commissioner.
One of the many changes made after September 11: better radios and communications for first responders.
At the time, firefighters and police had major difficulties getting critical information to and from each other in the 110 story buildings.
As New York literally gets taller, with more sky scrapers popping up in Manhattan, downtown Brooklyn and Long Island City, Queens, Nigro described how they present serious challenges.
"You can see a few of the residential towers that are up just south of Central Park and people from the top look down on the Empire State Building from those towers," said Nigro. "New York has more taller buildings than it had twenty years ago. The department needs to be ready to respond to them."
Nigro said his department is certainly ready.
The police department says it's ready too.
It's a normal part of life now in New York, officers walk around with assault weapons, cameras watch every move, and across the city, chemical and radiation detectors are placed in strategic locations.
"In twenty years the NYPD has reinvented the concept of what it is to protect a major city with a municipal police department on U.S. soil," said John Miller, deputy police commissioner of intelligence and counterterrorism.
Miller is now responsible for protecting New Yorkers from an attack. But, two decades ago he was a television reporter and he interviewed the man who ordered the attacks, Osama bin Laden. That interview was conducted inside a cave in Afghanistan just three years before the attacks that killed nearly 3,000 people. Miller said at the time he didn't think bin Laden was capable of such a massive and devastating attack.
The 9/11 commission, which studied the attacks, called it a lack of imagination on the part of U.S. intelligence and military.
"Using commercial airplanes as missiles beings flown by trained pilots, that wasn't on anyone's frame of reference," said Miller.
It's now the job of a select group to come up with the most outlandish terror plots.
"We have people who literally spend their time between CIA, the FBI, the NYPD imagining unthinkable scenarios," explained Miller. "Then imagining how to counter them and then building those plans out."
Miller said this kind of exercise is extremely important.
"They come up with some plans that make us lean back on our heels and say, 'alright, we are going to actually have to consider how do we start to counter that."
He showed how the NYPD can monitor thousands of cameras in the city. The deputy commissioner also pointed to a map that tracks flights across the country. Officers look for any planes that may be off course.
But Miller said the best way to prevent any attack is by stopping it in the planning stages.
When asked if there will be another major terrorism attack in New York City, he responded this way, "I have to believe that because if I don't believe that then I'm not doing my job."
Firefighters and brothers Micheal and Abraham Miller are proud of doing the job of protecting people.
They decided to join the FDNY after seeing hero firefighters make the ultimate sacrifice on September 11.
"If they're going to attack, they're going to be looking at New York City," said Abraham Miller. "I don't really think about it. That's kind of what we signed up for. It sounds crazy, but we train for it. If it does happen, God forbid, we just hope that we are ready for it."
His brother, Michael Miller added, "Do the job, do the task at hand what it is called for. That's how we were born and raised. We are just giving that back to the city."
Since the terrorist attacks, more than 500 firefighters and police officers who responded that day and the months following in the recovery efforts have died from 9/11-related illnesses.
"Twenty years later you see it's still not over. That terrorist attack is still taking our people," said NYPD deputy commissioner John Miller.