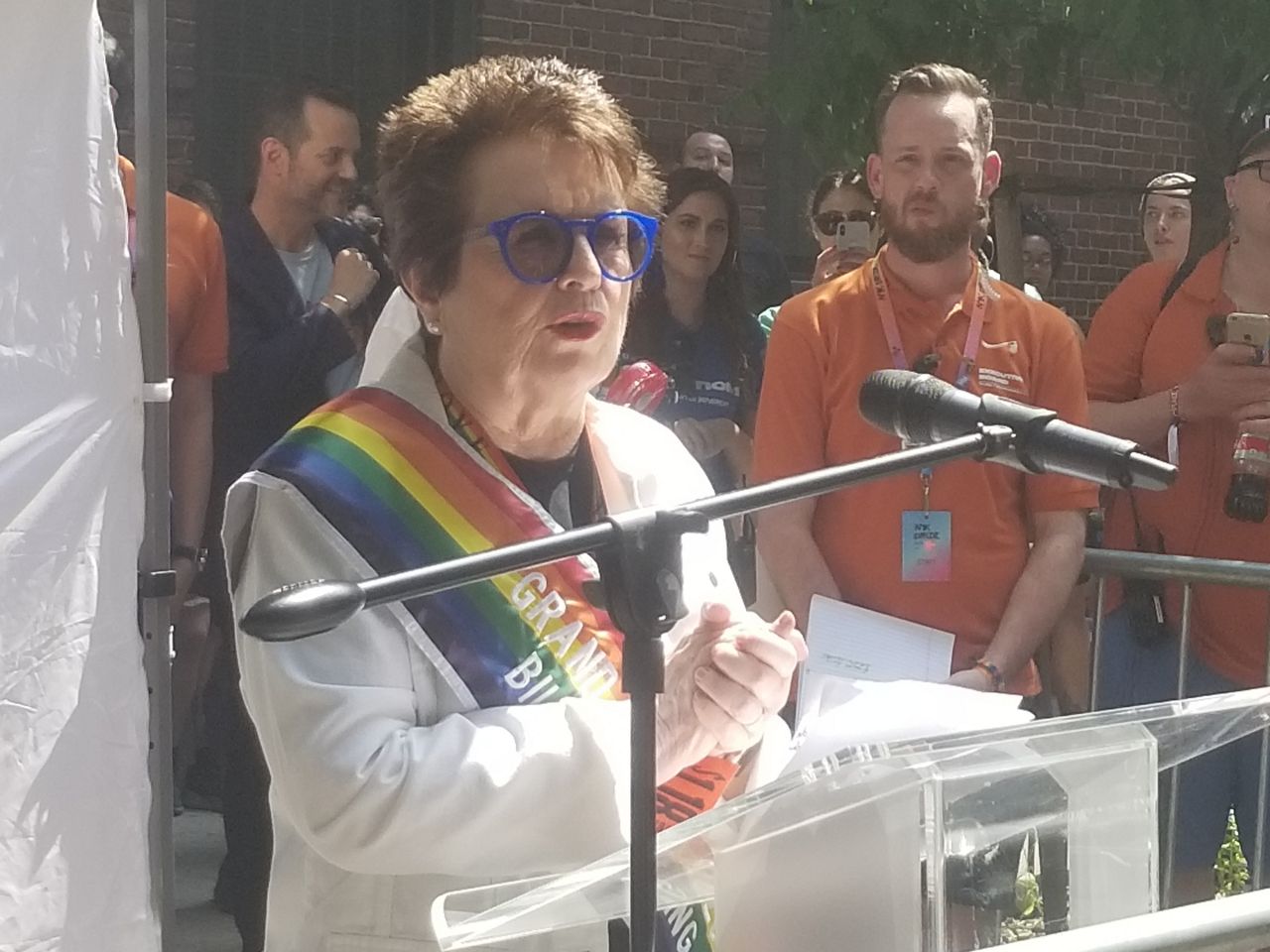 1 of 3
Billie Jean King speaks at a press conference before the Pride March.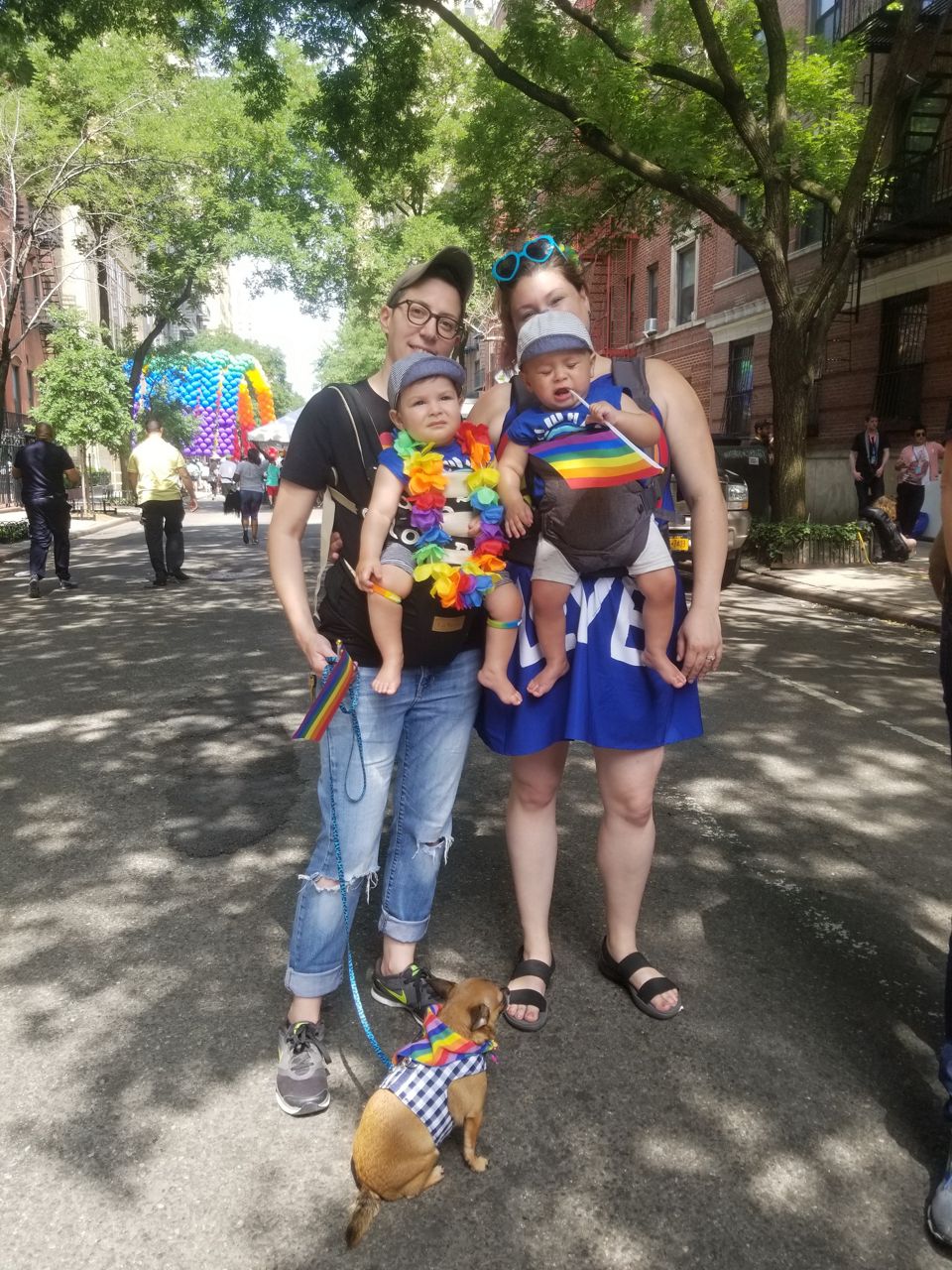 2 of 3
Deena and Mindy Darvish celebrate Pride March with their ten-month-old twins and Chihuahua Ozzie.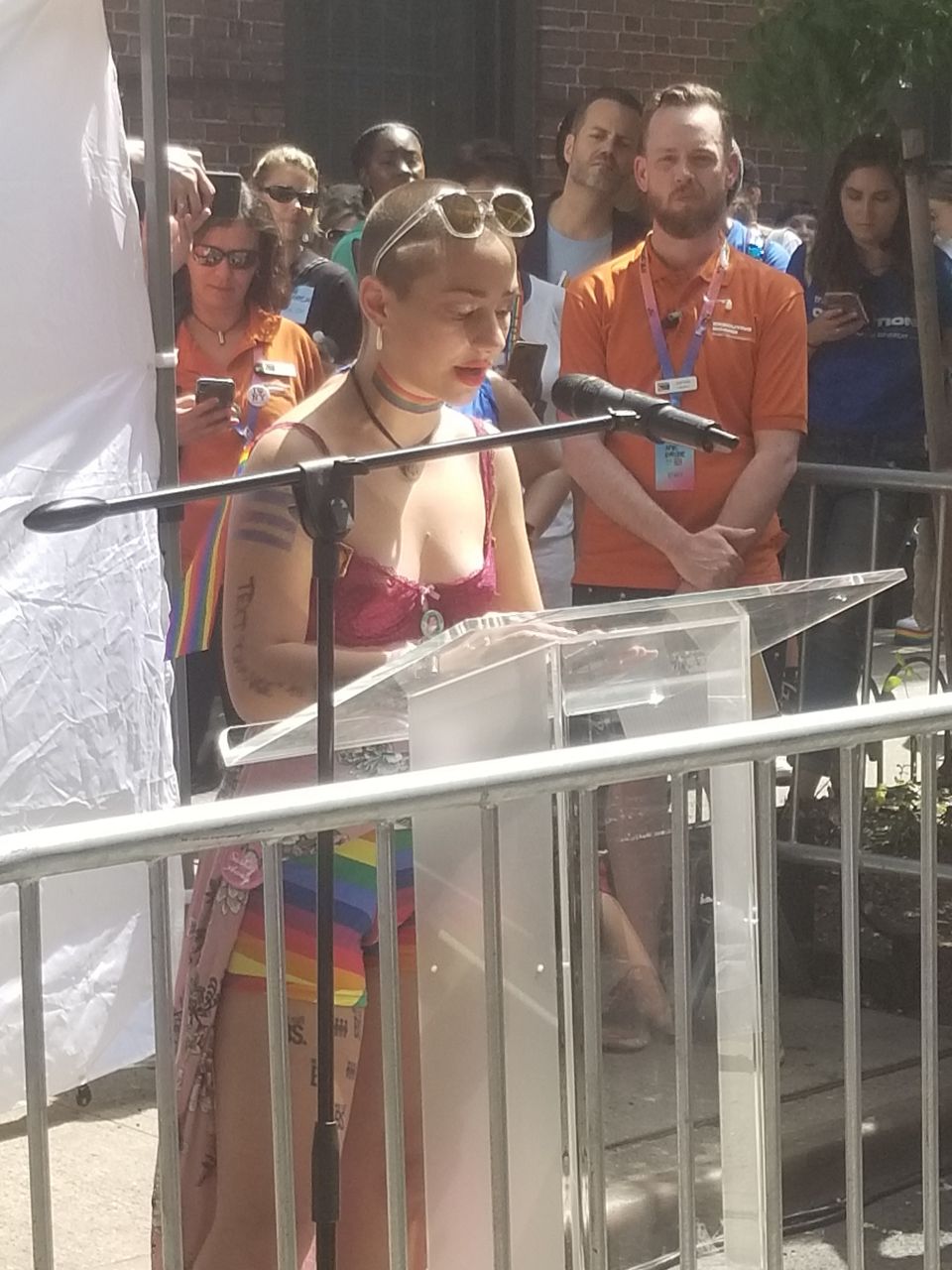 3 of 3
Gun control activist Emma Gonzalez, who survived the Marjory Stoneman Douglas High School shooting in Parkland, Florida, speaks at a press conference before the Pride March.
It was a colorful Sunday in Manhattan for New York City's annual Pride March, celebrating inclusion and the unity and strength of the LGBT community, as well as a new route for the march.

A MESSAGE OF DEFIANCE
The Heritage of Pride March and Festival was both a celebration of the diversity of LGBT culture and a protest against anti-LGBT policies promoted by President Donald Trump, such as Trump's attempt to ban all transgender people from serving in the military.
"We're making a statement that we're here, everybody. Whether it's immigrants, whether it's queer people or people of color, we're not going to put up with what this administration is doing," said Diego Molano, of Queens, at his second Pride March. "You can't just cage everybody up."
The theme of this year's march was "Defiantly Different.'' At least 80 floats, and tens of thousands of marchers, were expected.
Among the signs people were carrying in the parade were phrases like, "Black and brown and trans lives matter" and "No more guns."
A NEW MARCH ROUTE
This year's march featured a new route and kicked off at 16th St. and 7th Ave.
Participants then traveled south along 7th Ave. before they turned east on Christopher St. and 8th St. in the West Village.
The march passed by the Stonewall Inn, which is considered the birthplace of LGBT rights' activism.
The march then headed uptown along 5th Ave. and ended at 29th St.

A LOOK TOWARDS NEXT YEAR
The NYPD said the route change was a result of collaboration between march organizers and the department, in part due to expected historic attendance for WorldPride, which will be held in New York City next year and will also coincide with the 50th Anniversary of the Stonewall Uprising. Riots erupted in response to a police raid of the gay bar in June 1969. A park across the street from the Stonewall was designated a national monument in 2016.
The police department said while there are no credible threats against the march, they deployed a large number of uniformed and plainclothes officers to ensure that the event is safe.
"We have to be mindful of the rhetoric that's been out there, the rhetoric that is part of the doctrine of certain terror groups including ISIS and al Qaeda against the LGBTQ community. We have to be mindful of history, the Pulse nightclub shooting where groups and places have been singled out for acts of violence," said NYPD Deputy Commissioner of Intelligence and Counterterrorism John Miller.
"People have a right to freely express themselves as queer people, whether members of the police department, whether members of activist groups, whether members of resistance groups and the Gay Officers Action League supports the rights of all people to express themselves freely," said NYPD Detective and Gay Officers Action League President Bryan Downey.
Police encouraged anyone who may see something that appears to be suspicious to find a police officer, call 911, or call the terrorism tip line at 1-888-NYC-SAFE.
BILLIE JEAN KING AMONG THOSE WHO LED THE MARCH
Four grand marshals led the march, including tennis champion and activist Billie Jean King, transgender advocate Tyler Ford, and civil rights organization Lambda Legal.
"It just shows what we can do together, how we can have unity. We have to keep pressing, we have to be visible, we have to be strong towards equality and freedom in our voices, in our actions," Billie Jean King said. "We have to keep doing it. Every generation has to do it."
A group of community heroes were also honored, including gun control activist Emma Gonzalez, who survived the Marjory Stoneman Douglas High School shooting in Parkland, Florida in February.
Mayor Bill de Blasio and Gov. Andrew Cuomo were among the elected officials who attended the march.
To coincide with the event, a New York state memorial to lesbian, gay, bisexual, and transgender people that honors victims of intolerance opened to the public Sunday.
Cuomo officially unveiled the monument in Hudson River Park in Manhattan. It has nine boulders with pieces of glass installed in them that can act as prisms and reflect rainbows in sunlight. It was designed by artist Anthony Goicolea, of Brooklyn.
Cuomo formed the commission to come up with an LGBT memorial after the Pulse nightclub shooting in Orlando that left 49 people dead.