As the city mourns the NYPD officer gunned down in the line of duty Tuesday night in Manhattan, city officials are shedding more light on the suspect believed to have fired the fatal shot.
Speaking at 1 Police Plaza this afternoon, Police Commissioner Bill Bratton says Tyrone Howard is now in custody.
Investigators say he was the one who fired the single fatal shot that killed Officer Randolph Holder, 33, just before 9 p.m. on the footbridge overpass at 120th Street in East Harlem.
Holder died about two hours later.
The NYPD says Howard has a long arrest record for violence, dating back to when the 30-year-old was a young teen.

Police say Howard was wanted for a shooting on September 1, and that officers made numerous attempts to apprehend him but were unsuccessful.

Mayor Bill de Blasio called Howard a "hardened, violent criminal who should not have been on the streets."
Bratton says there is no pattern to the now four NYPD officers killed over the past 11 months.
"The loss of Officer Holder is hitting us all and there's something particularly powerful about the fact that he followed in the footsteps of his father and grandfather of devoting his life to protecting others and he represented the best of our society," De Blasio noted.
"We are dealing, as the mayor referenced, with a core element in our population that is still involved in carrying firearms, still willing to use those firearms, so it is a very vivid and very tragic reminder," Bratton added.
Investigators say Holder and his partner, Officer Omar Wallace, first answered a call of shots fired near East 102nd Street and First Avenue.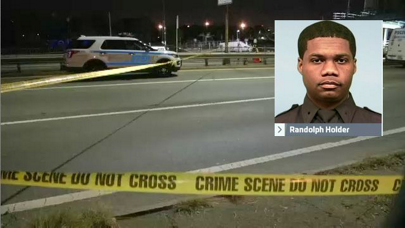 Witnesses said they saw several men running on a foot path heading north on the FDR Drive.
The officers were also told that one of the men had stolen a bicycle at gunpoint, and later confronted Howard with the bike on the pedestrian overpass.
Police say when officers approached Howard, he pulled out a gun and fired one shot, hitting Holder in the head.

A second officer then returned fire, hitting Howard once in the leg.
"When Tyrone approaches them on the bicycle, when he approaches them on the bicycle, he puts the bike down, he pulls out his weapon and he fires one time, striking the officer in front of the head," said William Aubry, the NYPD's Manhattan Chief of Detectives. "The individual, Tyrone, continues to proceed towards Officer Wallace. Officer Wallace discharges his firearm."
Despite being wounded, Howard ran off and was captured just a few blocks away.

Three other men were later taken into custody for questioning.
Police say one gun was recovered at the scene, as well as multiple shell casings.
Officers lined the street outside Harlem Hospital as Holder's body was driven away.
Holder was a third-generation police officer. His father and grandfather were both police officers in Guyana.
He also leaves behind a 16-year-old daughter.
A number of Officer Holder's family members live in Queens, and are mourning his loss.
Relatives and fellow police officers have been visiting the home of his father in Far Rockaway.
NY1 spoke with Holder's cousin, Ruth Lawrence, who says the family is devastated.
"Doing the job he loves. Next, he was just thinking to be a detective. And this, they just take his life away. They don't want to work, they don't want to do nothing good, they want to destroy people in the street. Very nice guy, very nice guy," Lawrence said.
Flags citywide have been lowered to half-staff in Officer Holder's honor.
Funeral arrangements are expected to be annnounced sometime later today.