If you see a 16-foot-tall black and yellow dancing pumpkin in The Bronx, you are not hallucinating. It's a brand new work from famed Japanese artists Yayoi Kusama at the New York Botanical Garden, one giant example of the 92-year-old's fascination with nature. It's an exhibition at the garden called Kusama: Cosmic Nature. It's a mix of new and older works by Kusama, 60 in all, spread across the garden's 250 acres.
---
What You Need To Know
The new exhibition of work by famed Japanese artist Yayoi Kusama has opened at the New York Botanical Garden in the Bronx


The exhibition was initially planned for last spring but postponed by the pandemic


There are 60 Kusama works throughout the 250 acre garden


The exhibition runs through Halloween of this year
---
"She has famously sold out venues worldwide and visitors are eager to see her work, get a selfie with her work, and just be part of the Kusama mania that has gripped so many of us", said Joanna Groarke, Director of Public Engagement and Library Exhibitions Curator at the garden.

Kusama is everywhere at NYBG, including inside the historic Haupt Conservatory, outside in the courtyard where there are tulips and giant Kusama Tulips. There's more at the Visitor Center Reflecting Pool, and you can see some Polka Dotted Trees on the way. At the Native Plant Garden, the water feature is transformed into Narcissus Garden, with 1400 stainless steel spheres floating and moving about with the wind.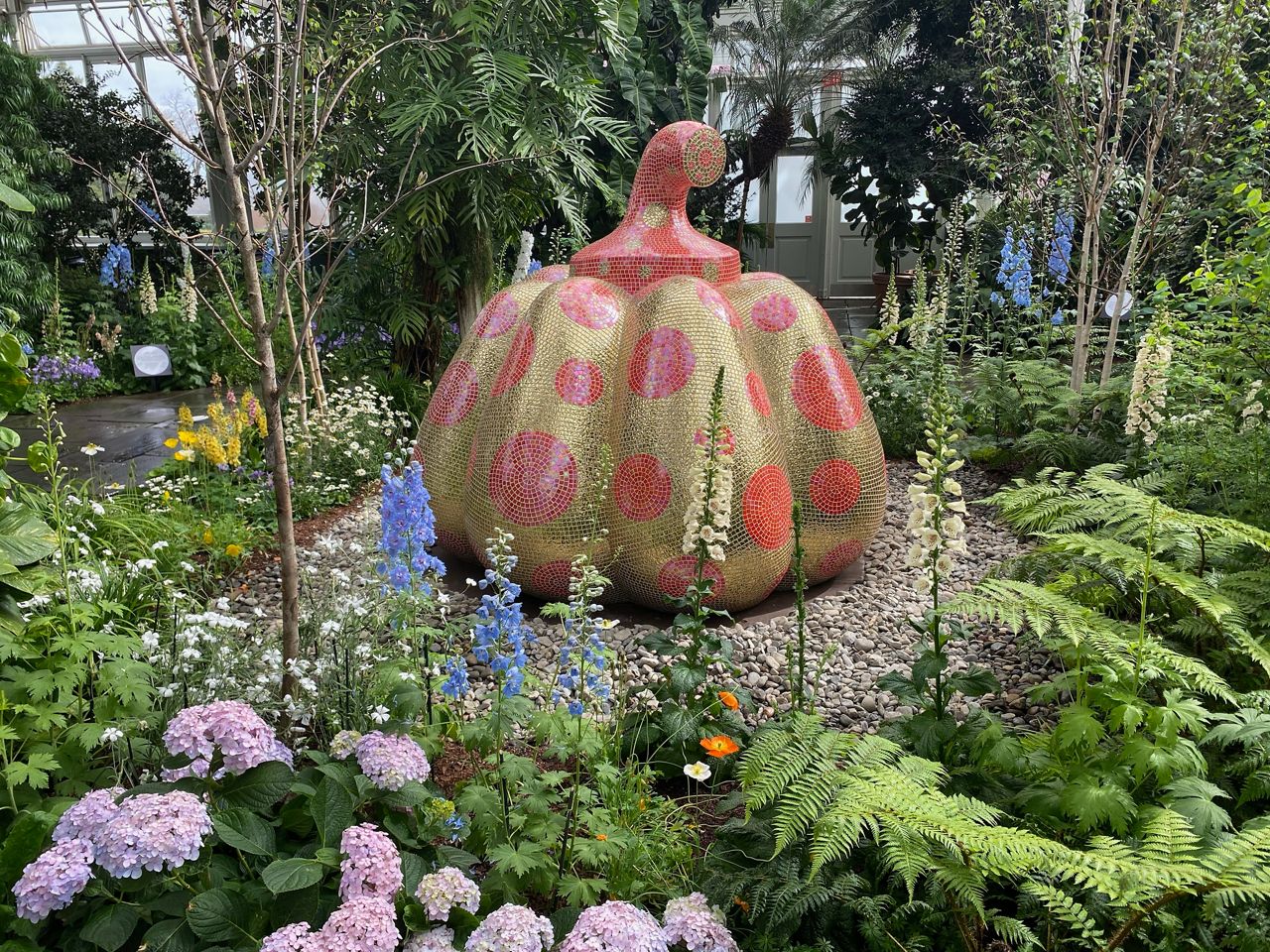 Other Kusama works making their debut include Flower Obsession, an Obliteration Greenhouse where visitors are invited to cover it with floral stickers. An infinity mirrored room experience is set to open in the summer. Other works are on display in the garden's library building, including a then 16-year-old Kusama's sketchbook.
After about three years of planning and a one year delay because of the pandemic, the Garden's Joanna Groarke says while they were excited to welcome the exhibit last year, they may be even more excited this year.

"It's kind of the perfect way for all of us to get to be together again outdoors in a safe setting enjoying beautiful art that points to the beauty and power of nature", said Groarke.

Kusama: Cosmic Nature will be on display at the New York Botanical Garden through Halloween.