Summer ends and autumn arrives this week. What kind of weather will we have? Here's a look at the long-range forecast.
Long-range forecasts aren't always correct, but they are still a good tool for looking ahead to the upcoming season. NOAA's Climate Prediction Center issues 30-day and 90-day outlooks for all the United States.
These predictions are made by complex weather models run on supercomputers at the headquarters of the National Weather Service. They take into account factors like El Niño and La Niña to make their forecasts.
The outlooks don't give you specifics, like what days it will rain or what the temperature will be on a certain day. The forecasts show where in the country temperatures will likely be above and below the average.
They also show areas with "equal chances." These are areas where the chances for above or below average temperatures are about the same.
The models also show the odds of having drier or wetter-than-average conditions over the forecast period.
For this October, November and December, the outlook for New York City is for warmer-than-average conditions. This doesn't mean that every day will be warm, but it does mean that we'll probably have more warm days than cool days.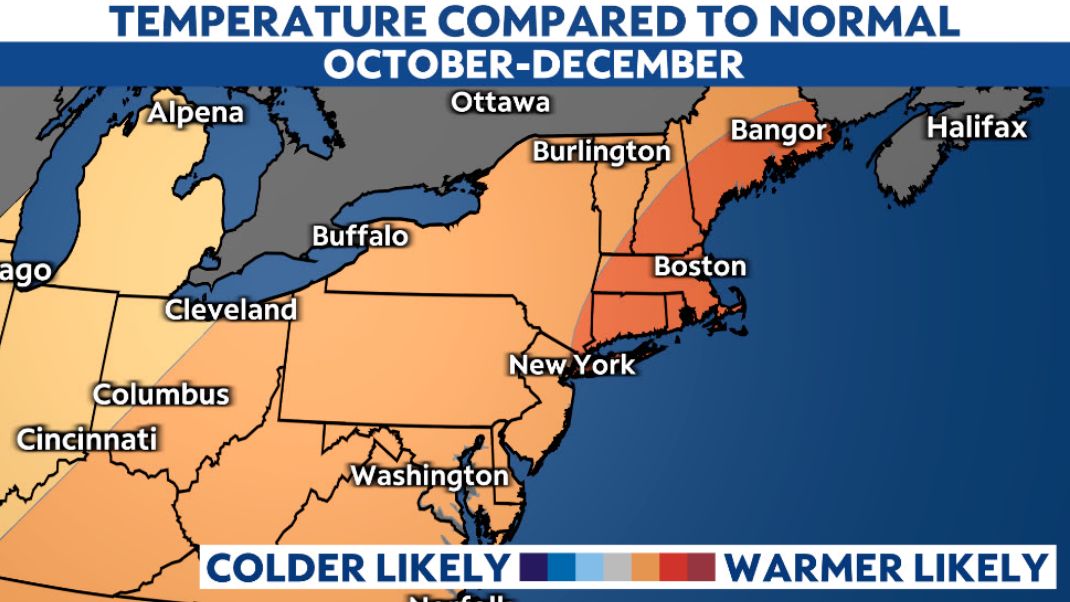 In terms of precipitation, the outlook doesn't show a strong signal of whether it will be a dry or wet fall for the five boroughs. Generally, autumn in New York is on the dry side. However, there can be exceptions. Hurricane season doesn't end until Nov. 30, and in the last few decades, we've seen significant storm events in October and November, including Hurricane Sandy.