NEW YORK — Mayor-elect Eric Adams made history Monday, appointing an all-female team of deputy mayors to serve the city.
---
What You Need To Know
Lorraine Grillo, a veteran of municipal government, will serve as Adams' first deputy mayor


Maria Torres-Springer, another de Blasio alumnus, is making a comeback as Adams' deputy mayor for economic and workforce development


Meera Joshi, another familiar face in city government, will take over as deputy mayor for government operations
---
Lorraine Grillo was named as first deputy mayor; Anne Williams-Isom as deputy mayor for health and human services; Meera Joshi as deputy mayor for operations; Maria Torres-Springer as deputy mayor for economic and workforce development; and Sheena Wright as deputy mayor for strategic initiatives.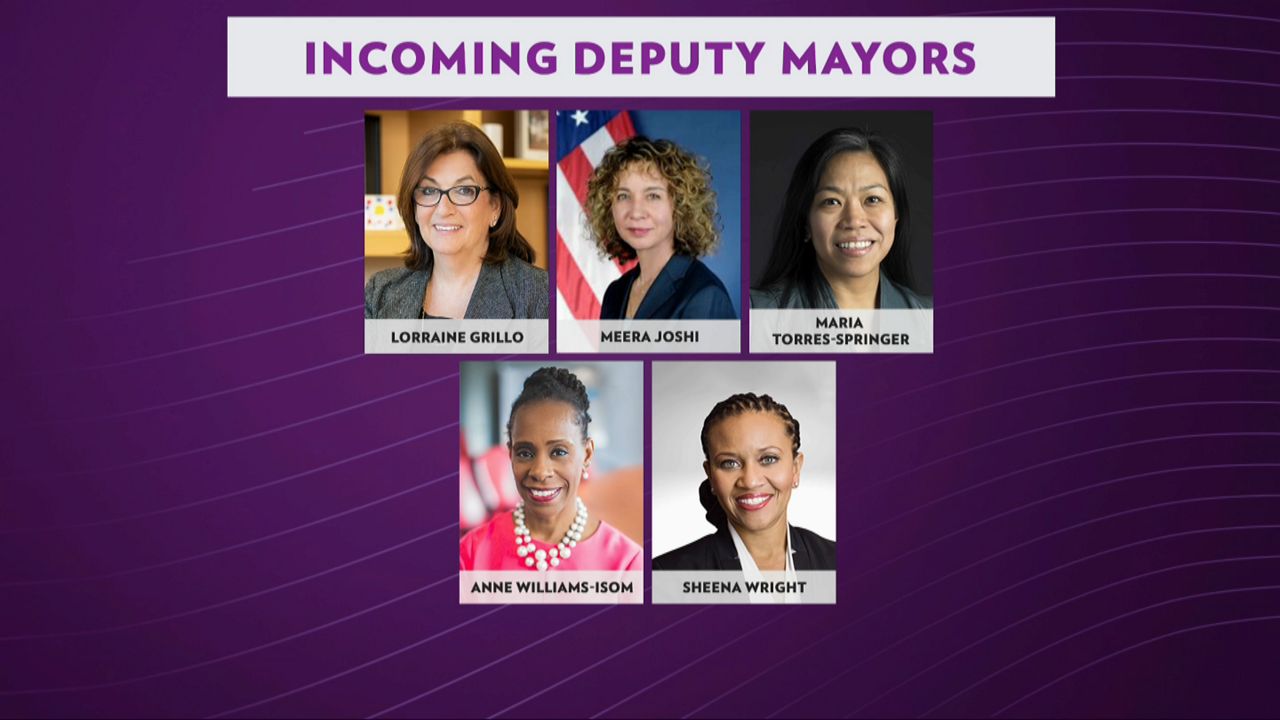 "The one thing that sealed the deal for me and allowed me to accept this position was when I heard the mayor-elect say he wants a GSD government," Grillo said. "Not everybody understood that when he said it. And we're gonna get this job done."
"Someone asked me how to get stuff done, and it was, give it to a woman. Give it to a busy woman. And give it to a single, working mother," Joshi said.
"We've all been hit hard by this pandemic, and we are all feeling it. But I know that this administration will help us get through. We will heal, and we will heal together," Williams-Isom said.
Adams made the announcement at Brooklyn Borough Hall, highlighting a promise he made during the campaign to appoint officials representative of the New Yorkers they serve.
"Far too often, men have been making decisions that impact women, children and families," the mayor-elect said. "That stops on Jan. 1."
The group includes daughters of immigrants, single moms, Black and Asian. Soon, they will be in charge of helping to run some of the most important areas in New York City government, and nearly all of them have served in previous and current administrations. All of them, with just one exception, are making a comeback to join Adams as he prepares to take office.
Grillo ran the School Construction Authority and the Department of Design and Construction. Most recently, she was named COVID-19 recovery czar by Mayor Bill de Blasio.
Torres-Springer is another de Blasio alumnus, and Torres-Springer will be the first Asian woman to serve as deputy mayor.
Joshi previously ran the Taxi and Limousine Commission, and will be the first South Asian to hold the post of deputy mayor.
Williams-Isom previously served as deputy commissioner of the Administration for Children's Services (ACS).
Wright, currently in charge of heading the transition, is the president and CEO of United Way of New York City, a nonprofit organization dedicated to helping low-income New Yorkers.
The Adams transition team also announced Monday that outgoing Councilman Ydanis Rodriguez will be appointed as the city's next Department of Transportation commissioner. Rodriguez, a reliable surrogate for Adams, will take over an agency with more than 5,500 employees and responsible for 6,300 miles of streets and highways, over 12,000 miles of sidewalk, and nearly 800 bridges and tunnels.
Adams also announced he will keep Aloysee Heredia Jarmoszuk as the Taxi and Limousine Commission chair.
------
Did you know you can now watch, read and stay informed with NY1 wherever and whenever you want? Get the new Spectrum News app here.
------
Looking for an easy way to learn about the issues affecting New York City?
Listen to our "Off Topic/On Politics" podcast: Apple Podcasts | Google Play | Spotify | iHeartRadio | Stitcher | RSS