NEW YORK — All candidates are on social media, but if you happen to be scrolling through Instagram, TikTok, or Twitter, there is one mayoral candidate that's getting a lot of young people's attention.
---
What You Need To Know
Three thousand people have signed up to volunteer for the Morales campaign


Voters say they like Morales's plan to defund the police, her support to make CUNY free again, and that she's never been in politics


The campaign also has the lowest average donation: just a little over $47
---
There are memes, custom sneakers, and makeup tutorials.
There is even a dedicated color palette for the Dianne Morales campaign, which supporters say is helping to inspire a new generation of voters.
During a recent campaign block party, Lia Guzman, who is volunteering for the Morales campaign, said she first learned about the Democratic candidate for mayor on social media. She was specifically attracted to her background as an educator.
"It all emerges from Dianne's TikTok," Guzman said. "I think a lot of us came from that, and just the generation coming in right now is very like awake and politically involved, and Dianne knew how to capture that."
Olivia Wohlgemuth, another volunteer who is currently on a gap year from school, said she was looking to spend her free time getting involved in local politics.
"She has spent her life and her career as a community organizer, someone who has fought unapologetically and relentlessly for her community," Wohlgemuth said. "Seeing that belief, that everyone in New York City is worth fighting for, it's not something I see in many politicians."
Morales, a political novice who has never run for office before, has made grassroots and youth support a central part of her campaign. So far, 3,000 people have signed up to volunteer.
Steven Lamy, who is also volunteering on the campaign, said he first learned about Morales by tuning into mayoral forums on Zoom — for which the campaign recently said it will participate less often, all part of an effort to reach voters in person ahead of the June primary.
"I think we're going to be in good hands with these young folks," Lamy said. "They know what they want, they know that change is required, and it's really exciting to see the energy behind it."
The campaign recently launched a "politics for all people" block party tour, going right to voters in apartment courtyards and city parks.
Voters there said they liked Morales's plan to defund the police, that she supports making the City University of New York (CUNY) free again, and that she's never been in politics.
"There is something happening here that I think is magical, and I think it's a reflection of a new sort of democracy for the people," Morales told NY1 during a recent interview.
"One of the things I am so impressed by, with the young people I get to talk to in the regular basis, is their recognition of the value of the collective good," she added. "It's something many of us from the older generation could learn from."
Evidence of people's support is also showing up in their coffers. The campaign says it has collected the most donations from the city of any candidate — more than 9,000 so far.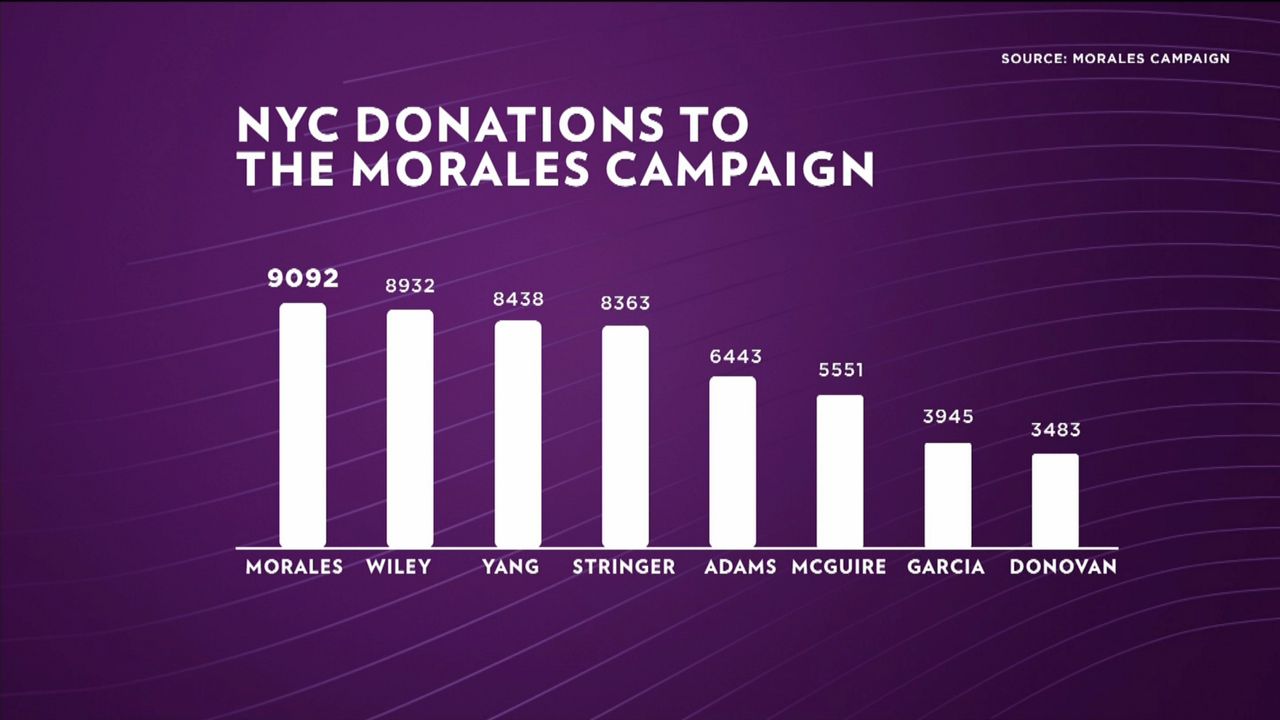 It says it also has the lowest average donation — just a little over $47 — and 30% of Morales's donors say they are unemployed. The campaign's second most common donors are teachers.


One of those teachers is Anne Marie Bailey, who was also in attendance at the block party, her hair styled in the colors to to match the campaign's signature color palette: purple, pink and orange.
"As she says it only takes $10," Bailey said. "Maybe she doesn't have the big heads behind her, so we as a community have to come together to strengthen her."
There's also messaging centered around the word "movement," and even a poster fashioned in the style that helped launch Rep. Alexandria Ocasio Cortez's career. They pose in an upward glance, perhaps to the future: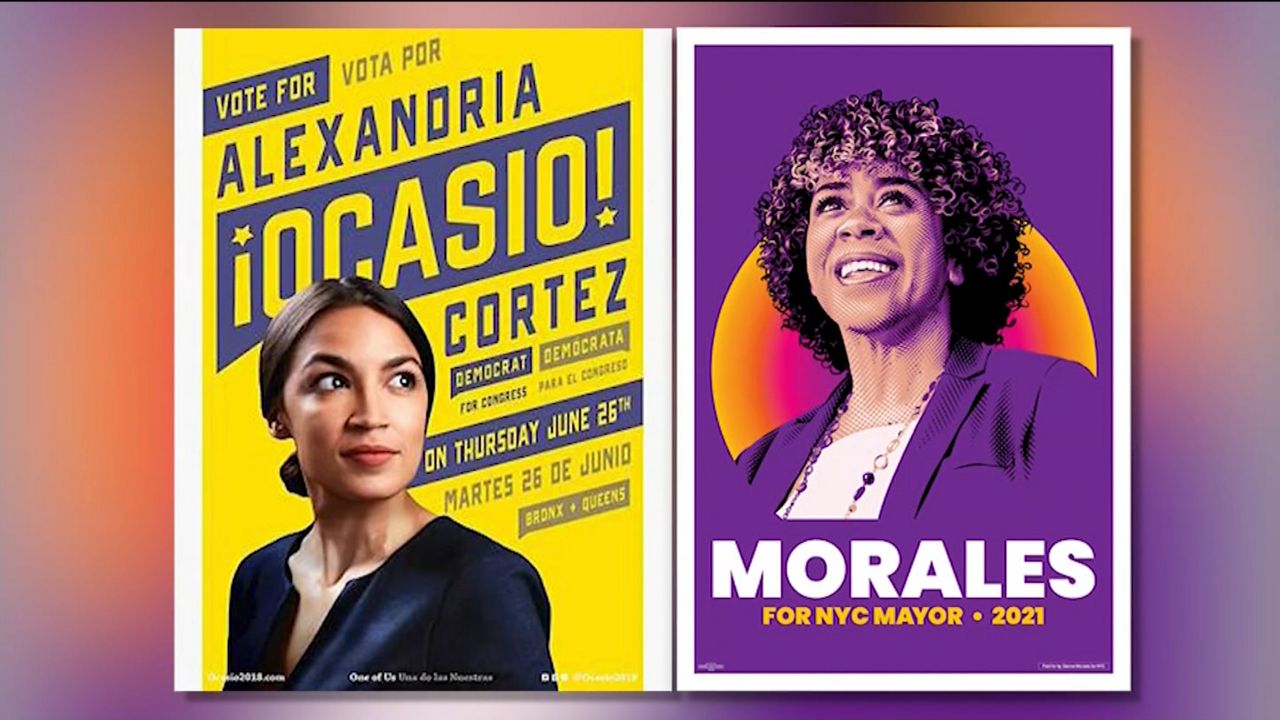 But comparisons to previous underdog campaigns leads to a question about follow-through: will the visibility on social media and in the streets translate to the support needed to draw in votes when it counts?
The campaign got a big boost in recent weeks: more than $2 million in public matching funds, and the second-place ranking in an endorsement by the Working Families Party.
"This campaign has been largely volunteer driven from day one, and while that is incredible it is great to actually be able compensate people for their time and build in a significantly much more robust team to continue moving this campaign forward," Morales said.
It will take much more than a social media presence, TikToks and block parties for Morales to secure a win and take City Hall.
But one thing seems clear for now: she's becoming a darling of the left, a movement that for now seems to be carried by some of city's youngest voters.
------
Did you know you can now watch, read and stay informed with NY1 wherever and whenever you want? Get the new Spectrum News app here.
------
Looking for an easy way to learn about the issues affecting New York City?
Listen to our "Off Topic/On Politics" podcast: Apple Podcasts | Google Play | Spotify | iHeartRadio | Stitcher | RSS