President Donald Trump and Mayor Bill de Blasio are feuding again.
On Monday, the mayor held an event where he displayed signs that said "Promises Made, Promises Kept."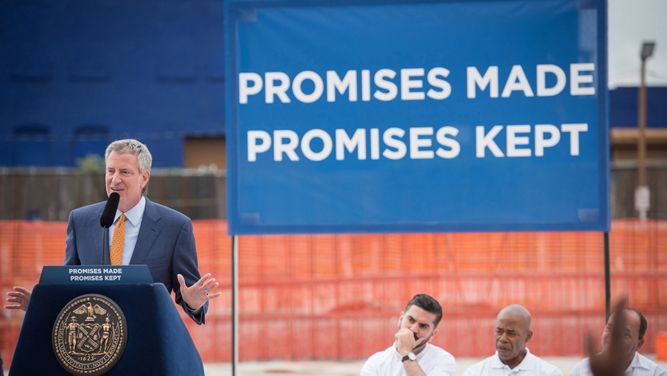 (Courtesy Flickr/nycmayorsoffice)
That slogan is the same slogan that the president has used in recent rallies around the country. Here is an example from a rally in Ohio on August 4: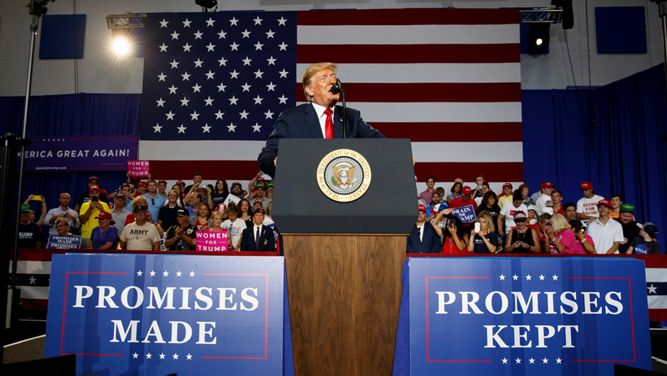 (AP Photo/Carolyn Kaster)
Trump noticed. He said the mayor's decision to use the same slogan was "not at all nice."
De Blasio responded by claiming there is a difference between when the two of them use the slogan.
He then posted a Twitter thread of what he said were promises that Trump broke.
Several Twitter users were quick to point out that Trump did not appear to be the first person to come up with the slogan.
Others pointed out that Trump's "Make America Great Again" slogan has similarities to a Ronald Reagan slogan from Reagan's 1980 campaign.
De Blasio has been a frequent critic of Trump since the president took office. After it was revealed that children being separated from families at the U.S.-Mexico border were being held in New York City, de Blasio went to the border himself taking him on over immigration executive orders. He has clashed with Trump on a number of issues, including the city's status as a "sanctuary city," the mayor's comments about Muslims, Trump's budget proposal, Trump's tax plan and climate change.
Trump has also, on occasion, criticized the mayor. During his presidential campaign, he tweeted that de Blasio was the "worst mayor in the United States."
At an event on Long Island last JulyTrump referenced police who "aren't allowed to do their job" because of a "pathetic mayor." He then asked the crowd, "Were you applauding someone in particular?", an apparent swipe at de Blasio.
De Blasio responded to that apparent swipe with a jab of his own.