Overdose deaths are at an all time high across the city. Since 2010, there has been a sharp increase.
Over the last 11 years, the city saw an increase of more than 2,000 overdose deaths.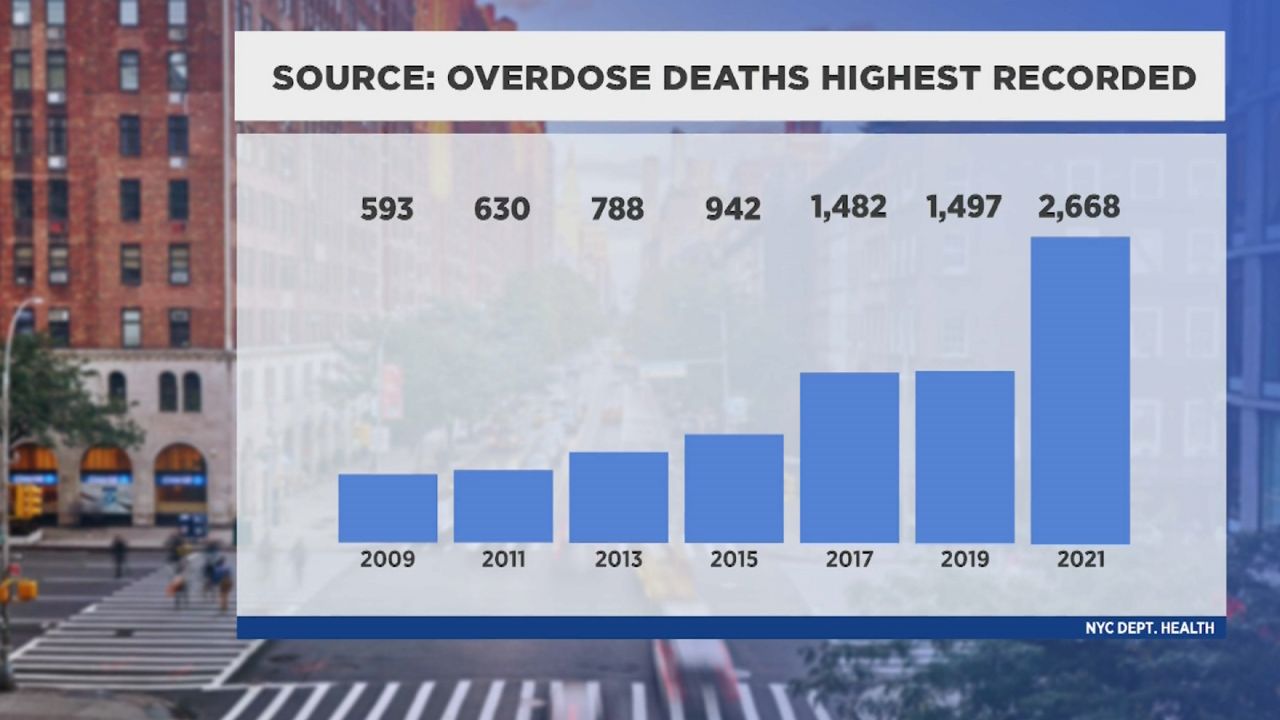 Beginning in December of 2021, t​he Mayor's Office of Nightlife and the city's health department have teamed up with bars around the five boroughs to give them Narcan, a treatment that reverses the effects of an opioid overdose, along with training to help save lives.
Donnybrook bar manager Maria Christianson once had to administer Narcan on a patron who overdosed at her bar.
"He was gray. He wasn't moving. His lips were blue," Christianson said.
She administered the nasal spray and waited for emergency services to arrive.
She hopes it was a once-in-a lifetime event.
"After it happened, I kind of sat by and was like, 'Woah. OK. That was not something that I ever thought would be happening on a quiet Thursday night at 6 p.m.," Christianson said.
Bar owner Meghan Joye said she's glad she accepted the kit after meeting with the city's health department and officers from a nearby precinct at a community event.
"I kind of stuck it behind the bar and didn't think much about it," Joye said.
Around 1,200 kits have been distributed through the Office of Nightlife's "Narcan Behind Every Bar" campaign.
"We created the 'Narcan Behind Every Bar' campaign because we really are aware of the crisis that is happening throughout the city," said Ariel Palitz, the founding director of the program.
As overdoses continue to see an uptick, Palitz said one of the biggest obstacles in distributing the kits is battling the stubborn stigma that stocking Narcan kits could imply a seedier clientele, but she says it's not that simple.
"Anything can happen anywhere in New York," Palitz said.
As a result, the city is also offering training for members of the nightlife industry on how to administer Narcan.
The Office of Nightlife has held five free Narcan trainings sessions for businesses, teaching a total of 75 people how to administer Narcan. It's something Christianson said would have saved her valuable time administering the dose.
"In that moment if I had known how to use it, I probably would have reacted quicker, but I had to take the directions out read it and do all that," Christianson said.
Christianson said she learned under pressure how to use it, when her patron overdosed in 2021, and will know the next time, if there is one.
The city also partners with community groups and pharmacies to give free Narcan to the general public.
Since 2017, the Department of Health and Mental Hygiene has distributed over 750,000 naloxone kits to opioid overdose prevention programs for free community-based naloxone distribution.