A source close to Senate Majority Leader Chuck Schumer's Office says New York City is expected to receive a substantial portion of the new federal aid being set aside for the migrant crisis.
The new pot of FEMA grant money, expected to total about $800 million, will be part of a larger omnibus bill likely to be voted on by Congress before the end of the year, the source says.
It comes as the Supreme Court decided that Title 42, a Trump-era administration policy that allowed border agents to expel migrants seeking asylum due to the COVID-19 pandemic, should stay in place — at least for now.
It was set to end Wednesday.
Supreme Court Chief Justice John Roberts is asking the Biden administration to respond to the court's move by 5 p.m. Tuesday.
Over 31,000 asylum seekers have already come to the city, with more than 21,000 in the shelter system, officials said this week.
The city has opened 60 emergency shelters, four humanitarian relief centers and two welcome centers.
Mayor Eric Adams has said that without Title 42, buses carrying migrants from the southern border are expected to begin arriving again to New York City, with about 1,000 asylum seekers coming per week.
Adams administration officials have estimated the migrant crisis will cost the city about $1 billion.
In a since-deleted tweet Tuesday afternoon, Adams said the city was "encouraged by the news of hundreds of millions in funding for asylum seekers," but also called for "a real border strategy."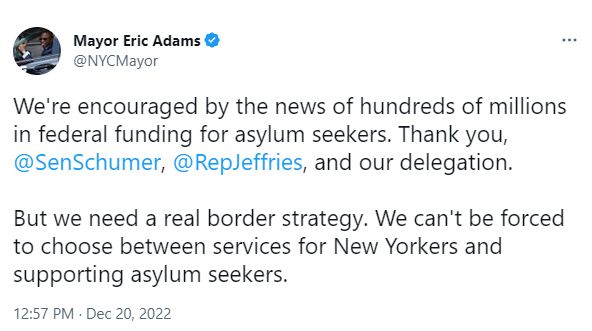 "We can't be forced to choose between services for New Yorkers and supporting asylum seekers," he wrote.
A tweet the mayor posted after deleting his first tweet did not mention the situation at the southern border.
Thank you to @SenSchumer, @RepJeffries and our New York City delegation for fighting for our city's fair share of funding for asylum seekers. This work hasn't been easy, and there's more to do, but every bit helps address this crisis.

— Mayor Eric Adams (@NYCMayor) December 20, 2022
"This work hasn't been easy, and there's more to do, but every bit helps address this crisis," he tweeted.