NEW YORK —It's a tougher message from a top prosecutor perceived as soft as crime.
A new memo issued Friday by Manhattan District Attorney Alvin Bragg staked out clearer positions on guns in the city.
"The default in gun cases is a felony prosecution," he wrote to his staff.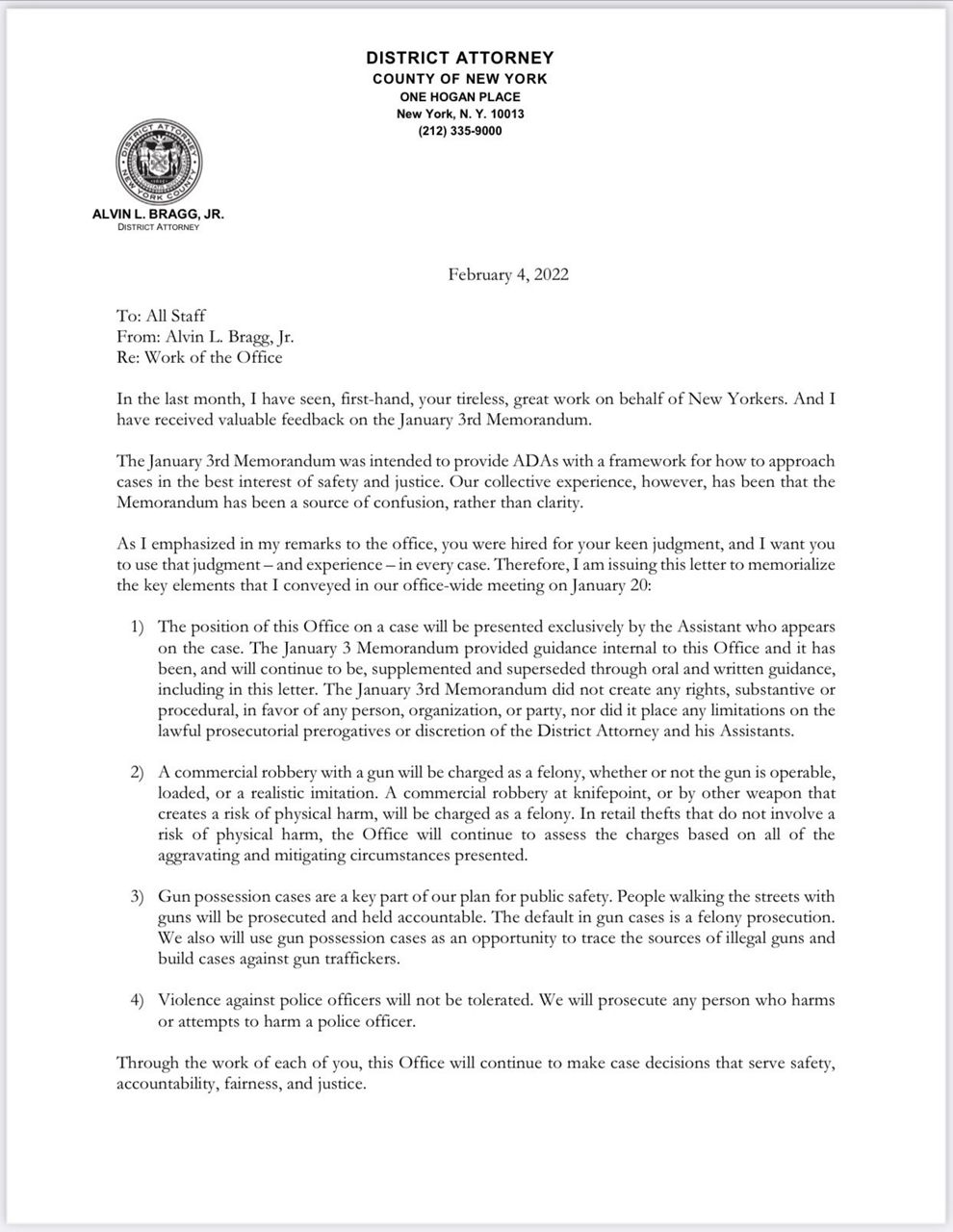 Bragg has been relaying the contents of the memo for a couple weeks now.
"We will be prosecuting all robberies with a gun as a felony. Let me be clear: Any use of a gun to rob a store by definition is and must be and will be treated seriously," he said at an NYU School of Law forum on Jan. 20.
"Gun possession cases are a key part of our public safety strategy. People walking the streets with guns will be held accountable," he said.
It's a walk-back on policy cited in Bragg's Day One memo, which turned him into the face of prosecutorial leniency at a time of loud and angry cries for a crackdown on crime.
But some public defenders tell NY1 that prosecutors under Bragg haven't really changed their tune.
"We represent right now New Yorkers who are charged with simply possessing a firearm, not threatening anyone, not using it against anyone," said Libby Fischer of Neighborhood Defender Service of Harlem.
"And this DA's office, DA Bragg's office, is still seeking an incarceratory sentence, even when we are begging for alternatives," said Fischer, who serves as managing attorney of the group's criminal defense practice.
Additionally, a NY1 review of data shows Bragg is largely keeping pace with his predecessor, Cy Vance, on cases where gun possession is the sole charge.
Last month, the Manhattan district attorney's office declined to prosecute four of the 16 cases where gun possession was the only charge.
In January 2021, the office declined to prosecute one of five such arrests.
Bragg has said gun possession – like other gun incidents – is personal to him.
"That's the story of my life," he said after his election last November. "Being stopped three times by the police, having a gun pointed at me three times by people who were not police."
Bragg as a candidate stressed that those who possess gun illegally aren't always drivers of violence.
Carl Hamad-Lipscombe, executive director of Envision Freedom Fund, agreed with the sentiment.
"Criminalizing gun possession has not worked," said Hamad-Lipscombe, whose group advocates against money bail and pre-trial detention. "It hasn't deceased the amount of violence in communities. It hasn't actually gotten guns off the streets, so we need to see other approaches."
NY1's analysis found that compared to Manhattan, Brooklyn and the Bronx had far more gun arrests and lower rates of declining to prosecute simple gun possession.
Last month, Brooklyn District Attorney Eric Gonzalez's office processed 131 such arrests, declining to prosecute 15. Bronx District Attorney Darcel Clark's office handled 120, declining or deferring prosecution in just five.
Different data reviewed by NY1 show that Queens was the closest to Manhattan in the number of gun arrests overall. In January, Manhattan had 51 gun arrests with 25% of the charged individuals in custody. By contrast, Queens had 49 arrests with 34% in custody.
Jillian Snider, a lecturer at John Jay College of Criminal Justice and former NYPD officer, said Bragg's policies had emboldened criminals and underscored in the data the number of alleged gun crime perpetrators who aren't in custody.
"It's rather concerning to think about people who were arrested for a felony, for illegally possession of a loaded firearm in the New York City area, and we're not even considering them for bail right now," she said.
On Friday, Mayor Eric Adams welcomed Bragg's shift in tone and noted the two have been in private conversation.
"I believe he did an analysis, and he came to a place that he understands we must operate as a partner in dealing with gun violence," Adams said.
Bragg, who was condemned by the widow of slain NYPD Detective Jason Rivera, also made clear in his new memo that violence against police officers "will not be tolerated."