NEW YORK — Mayor-elect Eric Adams will continue a vaccine mandate for private sector employees that went into effect Monday under Mayor Bill de Blasio, the incoming administration announced at a Thursday news conference.
The mandate requires all employees of private businesses to be vaccinated and that employers keep a full record of their workers' vaccination statuses.
Mayor-elect Adams emphasized at a Brooklyn Borough Hall news conference that his priority is to keep the city from shutting down and said he spoke with business leaders Thursday to inform them that the mandate would remain in place.
"We can't shut down our city again," he said. "We can't allow the city to go further into economic despair."
Officials emphasized that the new administration would focus on compliance instead of punishment.
"The mayor-elect has charged the incoming team with standing up a dedicated unit to work with employers, forgoing fines so long as employers help get their staff vaccinated," said Health Commissioner Dave Chokshi.
The Partnership for New York City, a leading business organization, has been critical of the mandate since it was announced earlier this month.
"The Partnership does not oppose vaccine mandates, but seeks greater flexibility in the timing and testing options than the current policy allows," Kathryn Wylde, the group's president and CEO, said in a statement on Thursday. "We trust that, once in office, Mayor Adams will be responsive to the wide range of constraints on businesses and nonprofits that employ essential workers and may need more time to comply."
The announcement was part of the mayor-elect's rollout of his overall plan to fight COVID-19 once he assumes office on Jan. 1, which includes a potential vaccine mandate in schools and boosters as part of the city's current vaccination requirements.
"The city will set a deadline of this spring for a decision of the vaccine mandate in schools to commence later in 2022," Chokshi said.
While the decision to require vaccinations in schools is ultimately up to the state, the mayor-elect said he has been in close communication with Gov. Kathy Hochul on the issue.
"The governor will make the final outcome if we're going to mandate vaccines in schools, those things that are state-regulated," Adams said.
The mayor-elect said he will "lean on the governor" when the city revisits numbers in April and decides whether to push a school vaccine mandate.
The plan also includes distribution of additional high-grade masks like KN95s and N95s through community-based organizations and at Health Department sites.
Manhattan Borough President-elect Mark Levine and current chair of the City Council Health Committee said he is "grateful to see his commitment to distribution of free, home self-tests, as well as high-quality masks, which are resources that are in short supply, and that very much needs government to help provide."
Following the news conference, the mayor-elect visited the theater district to boost morale for an industry that's seen multiple show closures due to the spread of the virus.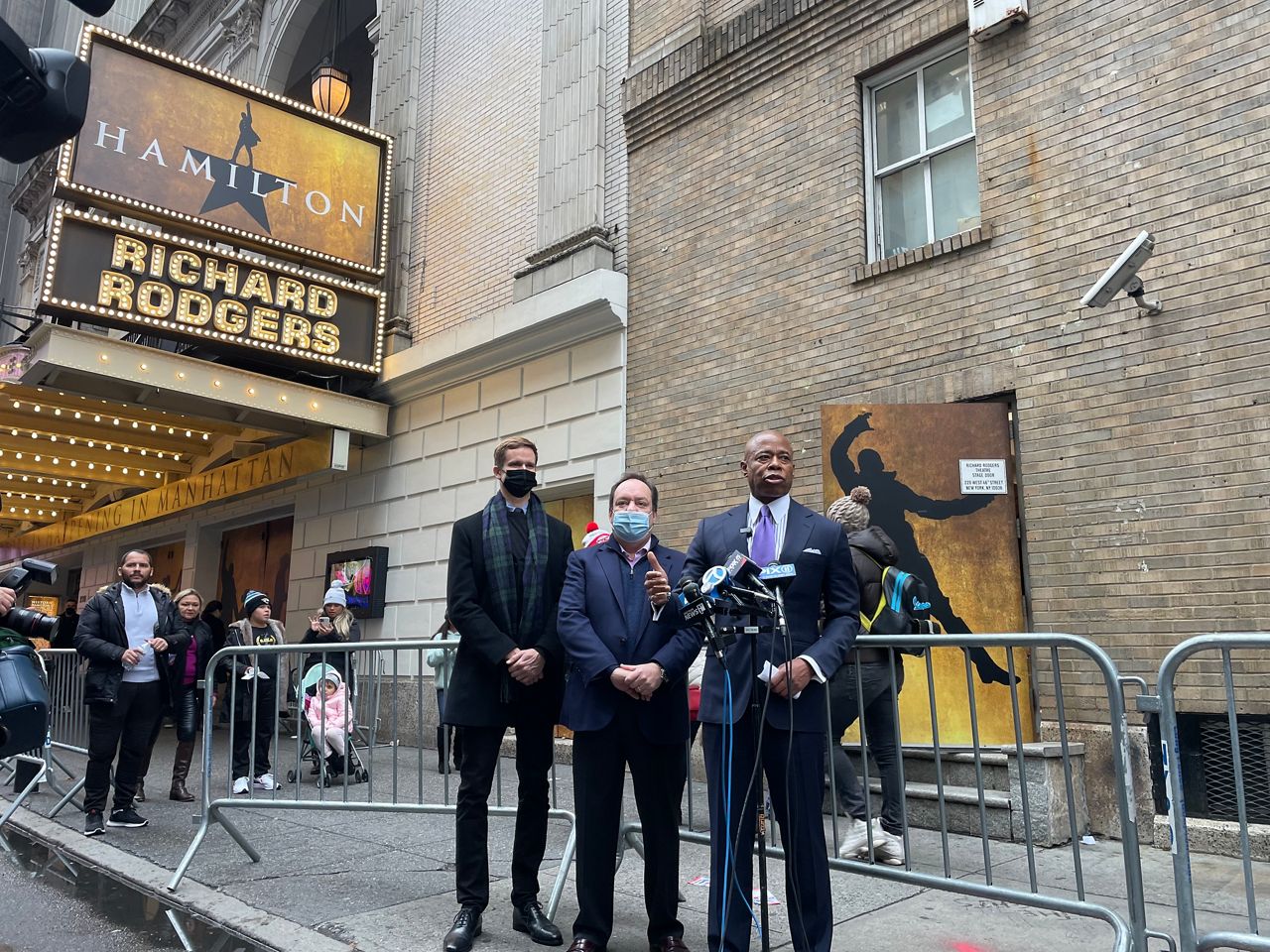 "This is what our city is about—it's about this theater district," he said outside the Richard Rodgers Theatre alongside incoming Councilman Erik Bottcher, who will represent that part of Manhattan, and theater owner James Nederlander.
He also walked through Times Square to speak with tourists in the area and to encourage support for the city's nightlife attractions.
"You have a mayor that supports you, you have a mayor that attends Broadway plays, you have a mayor that enjoys the nightlife of this city—a multi-billion dollar contribution to this city," he said.
The incoming administration's COVID plan comes as the city grapples with a surge in coronavirus cases.