Chi Ossé distinctly recalls the moment his life was cleaved in two.
It happened in 2017 after the sudden death of his father, Reggie Ossé, a lawyer in the hip-hop industry and later podcaster who worked with the likes of Def Jam and Damon Dash.
Chi Ossé was a college student in Southern California studying hospitality. With his love of cooking and a passion for curating spaces and bringing people together, it was a path that likely would've led to opening his own restaurant.
Instead, he would go on to become a grassroots activist marching in the streets, a first-time political candidate and, at 23 years old, poised to be one of the youngest City Council members elected to New York City office.
"It was definitely a shock to my life," said Ossé during an interview in the back of a juice shop in Bedford-Stuyvesant. "It turned my life upside down."
He dropped out of school during his third semester at Chapman University in Orange County, California, and moved back home with his mother and two of his siblings, and started working restaurant jobs.
"After my father passed away, it matured me," Ossé said. "It got me ready for the world in a weird way. I would not be in the seat that I'm in today, I would not have won, I would not have been running for office if my father did not did not leave this earth in the way that he did."
Before launching his City Council campaign in 2020, Ossé followed national politics, but admits he didn't know much about local government.
But the deaths of George Floyd and Breonna Taylor spurred his political awakening along with so many others.
He co-founded Warriors in the Garden, an activist collective that organized protests across the city and at one point was marching in the streets nearly every day. The growing movement left him feeling powerful and determined, he said.
"I was fueled by the total strength of the movement but also very aware that previous waves of the BLM movement hadn't secured the change we needed," he said. "While tens of thousands filled the streets every day, I was thinking of this energy's political potential — I was determined that this time be different."
But it wasn't until an aunt challenged him in the midst of all this, asking if he even knew who his city councilmember was, that the light went off in his head.
"Unfortunately, I'd say most New Yorkers aren't politically involved — especially not before the 2020 election," he said. "I'm not proud to say — I didn't know who many of my electeds were, but I also know I wasn't alone."
It was a huge learning curve, though, and he's relied on people such as State Sen. Kevin Parker, who represents Brooklyn neighborhoods like Flatbush, East Flatbush, Flatlands and Park Slope, and former Councilman Rafael Espinal, who represented areas like Bedford-Stuyvesant, Brownsville, Bushwick and Crown Heights. He's also turned to Brooklyn Councilman Brad Lander and Lander's Local Progress organization, which provides training to first-time elected officials, to prepare for January when he will likely assume office.
Ossé, a Democrat, won the June primary in District 36, which includes northern Crown Heights and parts of Bedford-Stuyvesant. He is favored to win the November general election in a heavily Democratic district with no Republican opponent.
Lander, who endorsed Ossé, credits his somewhat surprising success as a political newcomer to a combination of his fresh approach to politics along with his family's roots at least three generations deep in Brooklyn.
"I thought he had a good chance to win, but certainly most people expected it to be a lot closer," Lander said. "What I think that reflects is just how hard he worked knocking doors and talking to people in the neighborhood. His youthful energy, his maturity and his depth of connection in the neighborhood really showed through for people."
And while Osse's roots are decidedly in the streets as an activist, he's not immune to criticism that his move into elected office is a sell-out move.
"There is this notion in some activist spaces that government and any major institution within the American system should be abolished," Ossé said. "I do believe there's a strategy that we can all work on together, where there are electeds, like myself, and individuals that are still protesting and fighting on the ground, to work with one another and be symbiotic."
Warriors in the Garden was created as a collective based on nonviolent protest.
As more agitated forms of protest took place over the past year, including a march that shut down George Washington Bridge in September, where several people were arrested, Ossé distanced himself. He attended that protest, but walked away before things escalated.
But he doesn't completely disavow that type of action and plans on staying in communication with those who continue to use the streets to make change.
"I don't have an issue with agitators," he said. "I do understand where that energy is coming from and it comes from a lot of pain as well as 'fed-up-ness' with how society is and how society treats individuals that look like me."
Ossé's attitude of meeting people where they're at and tweaking his message to make sure it makes an impact doesn't take away from his goal: to significantly slash the police budget. He may not be shouting "defund the police" on a megaphone, but that's certainly still the guiding vision, he says.
"I hope that we can divest from a billion — I hope we can divest from even more when we see that wherever we are reallocating those funds is helping our communities," he said. "And then I'm hoping that we get to a point where we do not need to have as large of a police budget as we do, truly."
He says he approaches change as a pragmatist, believing he can affect the most change from the inside. And his approach of meeting people where they're at doesn't just apply to potential constituents; they apply to how he will interact with his future colleagues in City Council.
"Coming into office guns blazing, because we may not share the same ideologies on some concepts, may not be the best strategy to get this community the resources this community deserves," Ossé said.
As one of the youngest people to ever be elected to City Council — the youngest was Joel Rivera, who won his father's seat in a special election at the age of 22 in 2001 — Ossé considers his age to be both a strength and a hurdle he had to overcome throughout his campaign.
He built an online following during the protests last year and leveraged his social media know-how in his run for City Council.
In fact, Lander first found out about Ossé through his teenage daughter, who showed him Osse's Instagram profile.
"She was like, 'Dad, you see this activist, what he's doing? He's running for City Council. This is somebody exciting,'" said Lander about his daughter Rosa, who was 17 at the time. "And I try to listen to what my daughter says."
Indeed, Ossé's online presence, with its visually appealing graphic design, typography and use of photos and videos, lent themselves easily to social media shares during his campaign by a generation well-versed in the importance of engaging visuals for content creation.
"We utilized this youthful 21st century energy and branding and in policies to this campaign to engage all people within local politics, and I truly believe that it turned out the vote and brought us to where we are here today," Osse said.
Most of his political team were in their 20s, he said, and he considers this an asset.
"Having a younger outlook on social media and marketing and campaigning benefited our campaign for sure in engaging those that are on these online spaces," he said.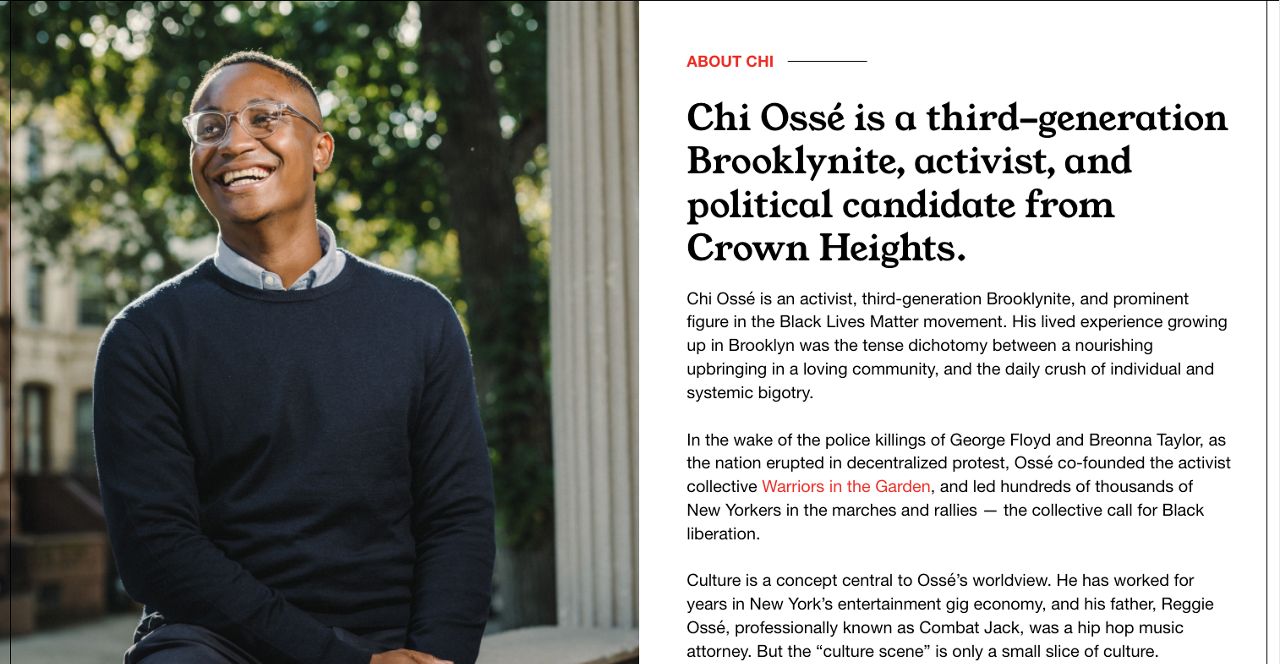 The campaign also used his love of fashion to make him stand out in the race, often with him sporting his signature beret in photographs. Outlets that focus more on fashion and culture instead of local politics — like Vanity Fair, New York Magazine's The Cut, and Complex, Paper, and Conde Nast's Them — covered his campaign.
It's a part of his identity that he doesn't plan on muting as he becomes an elected official.
"I'm in a pretty boring outfit today, but I'll bring it to City Hall," Ossé said about making sure he stays true to his style.
For Ossé, there's no reason in giving up the things you love or changing who you are just because you become an elected official. And in his case, that means he's going to continue doing things he loves like cooking aubergine with Sichuan pepper, trying to recreate his grandmother's curry chicken recipe and DJing disco, house and hip-hop music.
"Listen, as long as I'm getting the work done, I'll do whatever after that," he said.