MIAMI, Fla. — The state of Florida is suing the federal government over the continued shutdown of the cruise ship industry, Gov. Ron DeSantis said Thursday, demanding it be "reopened immediately."
---
What You Need To Know
Florida governor says state is suing CDC, federal government over cruise shutdown


Cruise ship industry accounts for billions of dollars in commerce, jobs for the state


Government "has not taken sufficient action" to fully reopen industry, DeSantis said


---
"We have tens of thousands of Floridians ... throughout the state who depend on the viability of the cruise industry for their livelihoods, their jobs, and their ability to feed their families," the governor said from Port Miami, which touts itself as the "cruise capital of the world."
"This (coronavirus pandemic) shutdown is being imposed by the CDC and the federal government," DeSantis said.
The "Complaint for Declaratory and Preliminary and Permanent Injunctive Relief" filed in the U.S. District Court for the Middle District of Florida calls on the CDC, the Department of Health and Human Services, and the U.S. to "set aside" the government's "unlawful" Conditional Sailing Order.
DeSantis said he'd been in talks with state Attorney General Ashley Moody about the potential lawsuit. Two weeks ago at an event at Port Canaveral, DeSantis called on the Centers for Disease Control and Prevention to rescind sailing restrictions.
"We have one of our major industries that has been idled by the federal government for over a year, the cruise-line industry," DeSantis said at the time. "We need to get these cruise lines operating again."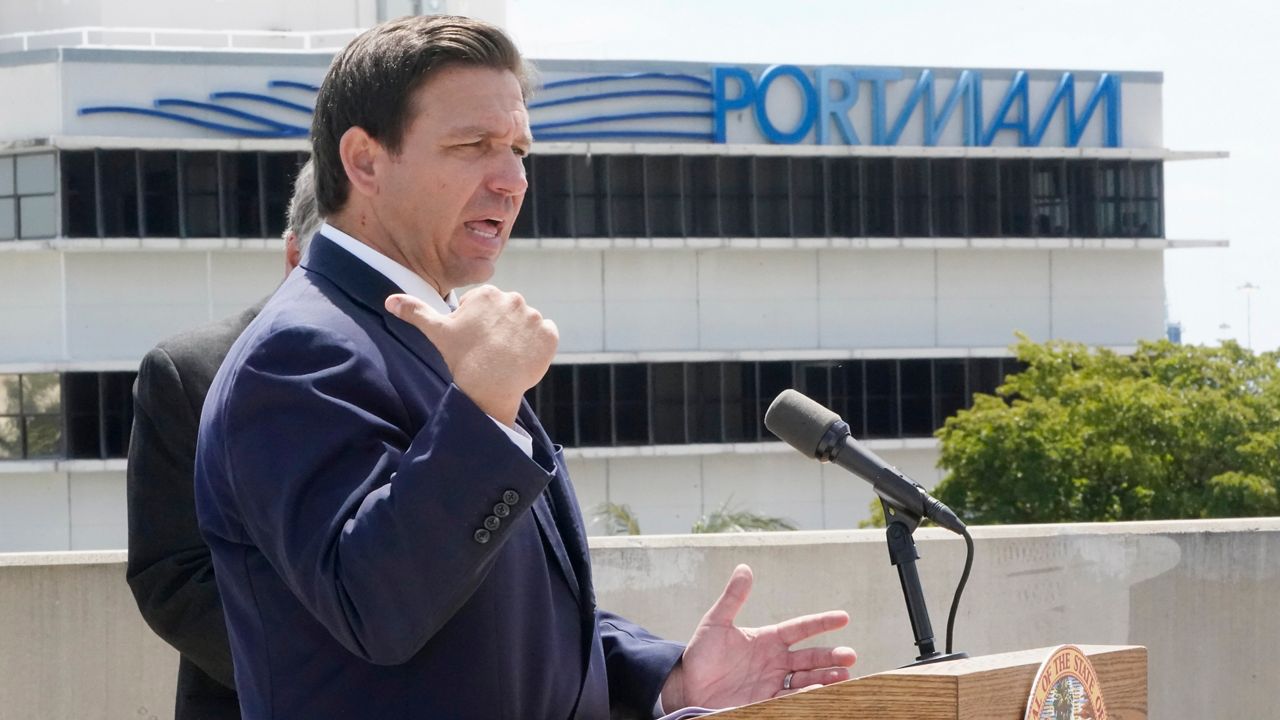 (Photo courtesy: Wilfredo Lee/AP)
Since then, the CDC and the federal government "have not taken sufficient action" to do so, he said Thursday.
"The ripple effect of this misguided federal lockdown has far-reaching implications for the cruise industry, international tourism, businesses that would benefit from the influx of visitors, our state's economy and the thousands of Floridians who work in the industry," Moody said in a released statement from her office.
DeSantis also claimed that whatever the government does next will be so "cumbersome" that cruise lines won't be able to sail.
The CDC's current reopening plan calls for a phased approach to resuming cruises starting in mid-summer.
Most of the major cruise lines that sail out of Florida, including Norwegian, Carnival, and Disney, have suspended U.S. operations through June.
Norwegian this week announced a detailed plan that would require passengers to be vaccinated and tested before boarding. That could conflict with an executive order signed by DeSantis last week banning "vaccine passports," or official documentation showing proof of COVID-19 vaccination to receive services from a business or local government.
"As a matter of company policy, we do not comment on third-party litigation. As we've outlined in our proposed plan to safely resume cruising, we look forward to partnering with the CDC to engage in meaningful discussions," a Norwegian spokesperson wrote in an email to Spectrum News. "We believe the time has come for cruising to resume from U.S. ports. Our proposed plan, including 100% vaccinations of guests and crew, universal testing and multi-layered health and safety protocols, is consistent with the CDC's updated travel guidance."
Carnival told Spectrum News that "we are aware of the lawsuit and share the sense of urgency of getting Americans back to work. Our focus is trying to work with the CDC on a plan to resume cruise operations this summer."
Spectrum News has reached out to the other cruise lines and the CDC for comment.
Port Tampa Bay sent the following statement:
"Port Tampa Bay is anxious to resume cruise sailings and has worked closely with our cruise line partners to follow the updated Centers for Disease Control and Prevention's guidelines. We are ready to do our part to ensure passenger safety and follow all protocols in place for a safe return of cruising. Port Tampa Bay is appreciative that Governor Ron DeSantis is looking for solutions to bring about the safe return of cruising and we look forward to working with his office on this issue, especially given the world's busiest cruise ports are in Florida."
This is a breaking news story and will be updated.
Read It: State of Florida v. CDC, HHS, US