It's not quite legalization, but the NYPD officially will no longer arrest most people caught smoking marijuana in public — although police will still handcuff people in some circumstances.
"Smoking a little weed out in public doesn't hurt anyone else," one man in Union Square said. "I've seen people do a lot stupider stuff on booze."
WHEN IS SMOKING MARIJUANA STILL PROHIBITED?
As of Saturday, officers will issue summonses instead of making arrests for smoking marijuana.
Officers will still arrest suspected smokers if they are on parole or probation, have an open warrant, a violent criminal history, fail to show identification, or drive while high.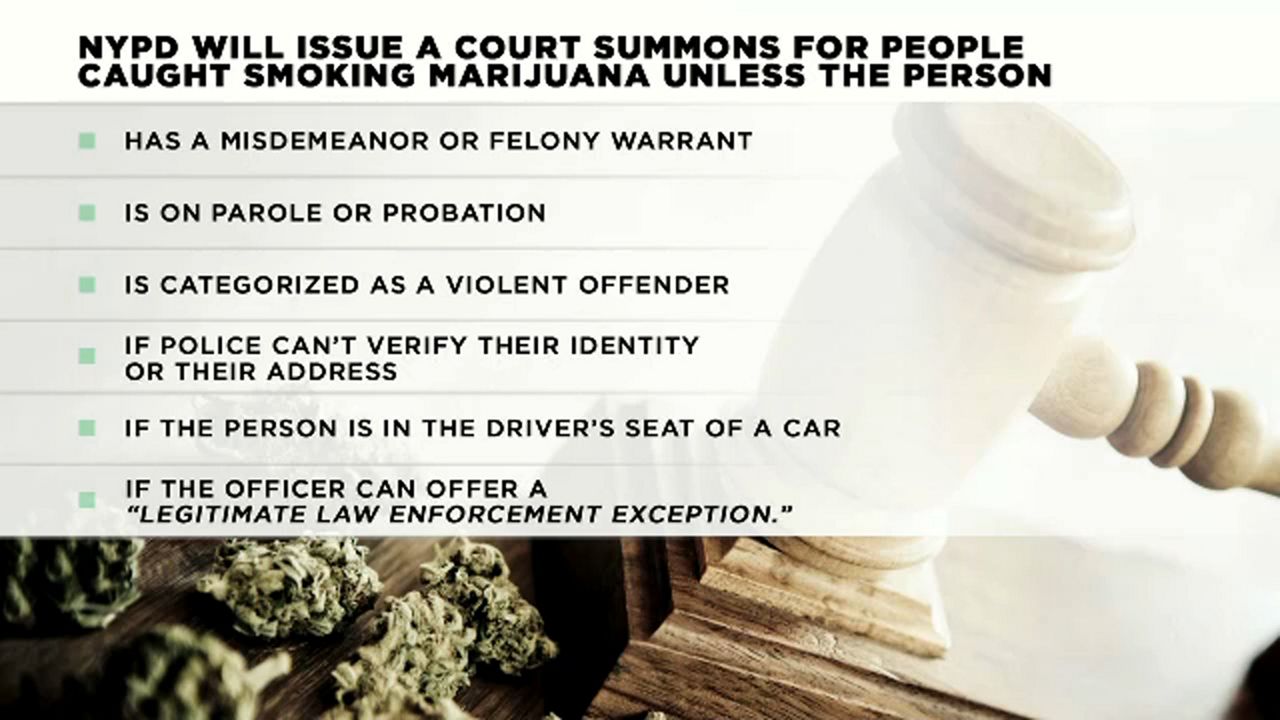 THE CITY SAYS IT IS LOOKING TO REDUCE ARRESTS
Mayor Bill de Blasio and Police Commissioner James O'Neill announced the relaxed enforcement in June. It is a move the mayor estimated will eliminate at least 10,000 arrests a year.
Marijuana arrests have been on the decline over the last several years, dropping from 53,000 in 2010 to 19,000 in 2017. But deep racial disparities persist. Nearly 9 out of every 10 people arrested for marijuana possession or smoking last year were black or Hispanic.
De Blasio says the goal of the enforcement changes is to end racial disparities in the marijuana arrests.
"It's always been unfair and has focused arresting POC [people of color] folks," one New Yorker said. "Everyone knows the percentage of white people to POC, it's the same amount of people smoking marijuana."
In Union Square on Saturday, most people welcomed the new policy.
"I think that's about time," one woman said. "Should have happened a long time ago."
Others fear the policy change will lead to more people smoking in public.
"I think the law should be followed because some people might take advantage of it," one New Yorker hypothesized.
THE DEBATE OVER FURTHER RELAXING ENFORCEMENT
Marijuana is illegal in New York state except for medical use on a strictly regulated basis.
The mayor has said he is still opposed to legalization. But de Blasio has expressed more openness in recent months as political momentum has grown in New York.
Brooklyn District Attorney Eric Gonzalez supported the policy change and said he was working on a process to seal the records of thousands of people with marijuana-related convictions, which can impede their ability to get a job or secure housing.
"We must bring a sense of fairness to the past at the same time we implement these new enforcement policies," said Gonzalez. "We are moving toward a reality in which marijuana will no longer serve as an entry way to our criminal justice system, with all the attendant collateral consequences."
New York set out to change its marijuana enforcement policy in May after The New York Times reported black people in the city were eight times more likely to be arrested on low-level marijuana charges as whites.
Soon after, Gonzalez and Manhattan District Attorney Cyrus Vance Jr. said they would scale back marijuana-related prosecutions and police convened a group to study the policy with input from academics, community leaders and others.
"The NYPD is not in the business of making criminals out of people with no prior arrest history," said O'Neill, denying officers were targeting anyone based on race. "We know that's not productive."
New York Civil Liberties Union executive director Donna Lieberman said the city's new policy is an improvement, but "not nearly enough to end counterproductive and discriminatory policing that has disproportionate and harmful impacts on communities of color."
Kevin Sabet, the president of the anti-legalization organization Smart Approaches to Marijuana, encouraged police to run an awareness campaign to remind people that marijuana remains illegal.
"We have spent a decade now to reverse the immense problem of tobacco," said Sabet, a former Obama administration drug policy adviser. "It makes no sense to roll out the red carpet for marijuana."
HOW LIKELY IS NEW YORK TO SEE THE LEGALIZATION OF MARIJUANA?
Any policy change would need to be approved by the state legislature, which is not expected to hold another legislative session this term. That likely means Albany will not consider legalization until 2019 at the earliest — leaving local authorities and critics to spar over how smokers are treated under the existing law.
A long-awaited report — mandated by Gov. Andrew Cuomo after facing political pressure — on marijuana earlier this year recommended that New York legalizes the drug.
Health Commissioner Howard Zucker said the preliminary findings are clear.
"We realized that the pros outweigh the cons, and that the report recommends that a regulated, legal marijuana program be available to adults in the state of New York," Zucker said.
The growing list of states that have moved to legalize recreational marijuana use includes California, Colorado and two of New York's neighbors, Vermont and Massachusetts.