CAPE CANAVERAL, Fla. -- SpaceX has hit a rocket straight out of the park on the first test flight of its big new rocket.
The Falcon Heavy rocket blasted off Tuesday afternoon from the same Florida launch pad used by NASA nearly 50 years ago to send men to the moon. With liftoff, the Heavy became the most powerful rocket in use today. The three boosters and 27 engines roared to life at Kennedy Space Center, where thousands gathered to watch the launch which had been delayed by high wind.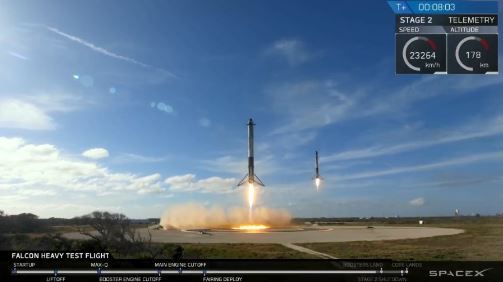 Behind the wheel of the car is "Starman," a dummy named after the David Bowie song.
At a news briefing after the launch, Musk said the middle booster, aiming for a landing on the drone ship in the Atlantic, actually hit the ocean about 100 meters away at about 300 mph, which was with enough force to "take out two thrusters (on the drone ship) and shower the ship with shrapnel."
The test flight marks the most ambitious one for SpaceX to date and is one that the company's CEO was particularly thrilled with since he announced its plans seven years ago.
"It's about believing in the future and thinking that the future will be better than the past and I can't think of anything more exciting than going up there and being among the stars," Musk said.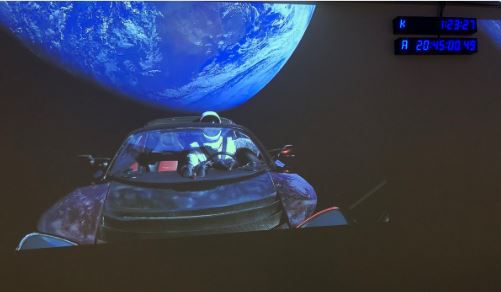 SpaceX hopes to target another Falcon Heavy launch in about three months, with perhaps two to three Falcon Heavy launches this year.
The Falcon Heavy was originally designed to carry humans into space and restore the possibility of flying mission with crew to the moon or even Mars. But Musk said Monday that the future of his company's manned missions lies with SpaceX's next-generation rocket, codenamed the "BFR."
With the BFR the future of manned missions, Musk said Falcon Heavy will "open up a new class of payload," perhaps giant satellites as far as Pluto.
He's also hoping the company's rockets will get other aerospace companies to step up.
"We want a new space race. They're exciting," Musk said.
WATCH: A live stream of the Starman: