The Greenbelt Conservancy hosted a free guided tour Sunday on the Gretta Moulton Green Trail.
03/30/2015 01:06 PM
The FDNY says six firefighters were injured - one seriously - while trying to put out flames at a building on Nicholas Avenue late Friday night.
03/30/2015 11:44 AM

Staten Island
Immigration leaders and the family of Delfino Velazquez gathered this weekend in front of Dana Ford Dealership to commemorate four months since a worker's death.
03/29/2015 11:01 PM

Staten Island
After weeks of grueling football games in frigid weather, some Staten Island athletes returned to the green Sunday to face off for the championship.
03/29/2015 07:33 PM

Staten Island
The 24th annual Bread for Life food drive was held Saturday at Monsignor Farrell High School.
03/29/2015 12:53 PM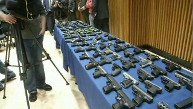 IN THE SPOTLIGHT
After years of declines in crime, the number of shootings in the city is up 7 percent so far in 2015. Police seized fewer illegal guns last year, which raises the questions: Are shootings up because there are more guns on the street? Are fewer guns being seized because stop-and-frisk policing has largely ended?
03/30/2015 11:35 PM
STATEN ISLAND WEEK IN REVIEW
SHOWS & FEATURES

Adam Balkin hosts Time Warner Cable's monthly STEM round-up, which takes a look at what STEM experiences South by Southwest has to offer; Connect a Million Minds' launch of a STEM-learning book in conjunction with the nonprofit 826 National; students at the Intel Science Talent Search showing off their science projects as they compete for six-figure awards; and FIRST Robotics enthusiasts battling their way through regionals across the country for a spot in the finals in St. Louis in April.
12:26 PM

NY1 previews the day on Wall Street from the floor of the New York Stock Exchange.
06:44 AM

Sometimes, fate intervenes in a life and sets you on a path that you previously could not foresee. That's what happened to Benjamin Tucker, setting him on a path that would include stops in the halls of power in New York and Washington, and now as second-in-command of the New York City Police Department.
03/30/2015 07:11 PM
THE CALL EPISODES
John Schiumo hosts the March 30, 2015 episode of The Call.
03/30/2015 11:18 PM

Tune to NY1 on TV, online, on our app, or on LOD for:
• On Stage Across America featuring a preview of "Gigi," on Local On Demand Channel 1020.