A crowd funding campaign is underway to transform a local subway station into a performance space.
01:57 PM
Police in Queens are investigating after a 70-year-old woman was fatally shot in the head early this morning after answering the door to her home.
Updated 12:57 PM

Queens
Parents and students are still trying to save Most Precious Blood School in Queens from closing, but the Catholic Diocese is standing by its plan to shut down the school in a few months.
12:42 PM

Queens
City Council Speaker Melissa Mark-Viverito and Queens community board members helped make a traditional Passover meal for neighbors in need in Rego Park with items from a kosher food bag.
12:11 PM

Queens
A coyote spotted on a Queens rooftop Monday is still on the loose.
11:46 AM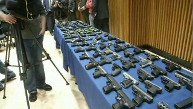 IN THE SPOTLIGHT
After years of declines in crime, the number of shootings in the city is up 7 percent so far in 2015. Police seized fewer illegal guns last year, which raises the questions: Are shootings up because there are more guns on the street? Are fewer guns being seized because stop-and-frisk policing has largely ended?
03/30/2015 11:35 PM
SHOWS & FEATURES

Adam Balkin hosts Time Warner Cable's monthly STEM round-up, which takes a look at what STEM experiences South by Southwest has to offer; Connect a Million Minds' launch of a STEM-learning book in conjunction with the nonprofit 826 National; students at the Intel Science Talent Search showing off their science projects as they compete for six-figure awards; and FIRST Robotics enthusiasts battling their way through regionals across the country for a spot in the finals in St. Louis in April.
01:26 PM

NY1 previews the day on Wall Street from the floor of the New York Stock Exchange.
07:44 AM

Sometimes, fate intervenes in a life and sets you on a path that you previously could not foresee. That's what happened to Benjamin Tucker, setting him on a path that would include stops in the halls of power in New York and Washington, and now as second-in-command of the New York City Police Department.
03/30/2015 08:11 PM
THE CALL EPISODES
John Schiumo hosts the March 30, 2015 episode of The Call.
03/30/2015 11:18 PM

Tune to NY1 on TV, online, on our app, or on LOD for:
• On Stage Across America featuring a preview of "Gigi," on Local On Demand Channel 1020.