New York City is known for a multitude of live concert venues, and there are several that are specifically designed for a summer concert experience. NY1's Shannan Ferry takes a look at a few located across the five boroughs.
Ford Amphitheater, Coney Island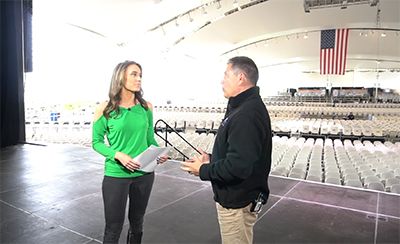 It was rainy and windy when our NY1 crew first visited the Ford Amphitheater for a story about summer concert venues. Not exactly the weather we were hoping for when you're shooting a piece that's supposed to scream "fun in the sun."
But as soon as you walk into this intimate theater on the Coney Island boardwalk, it suddenly feels like summer again. The view of the water, the smell of hot dogs and the stage crew getting the lighting ready for their first concert of the season instantly gives you that summertime feeling with or without the heat.
The stage sits inside what used to be Child's Restaurants for about 100 years. Now, a brand new restaurant called Kitchen 21 sits adjacent to the amphitheater. It is home to the longest top bar in New York.
The concert venue opened in 2016, but it's already become part of the fabric of Coney Island, attracting some big names ranging from Sting to Mary J. Blige.
The concert venue completes what's meant to give New Yorkers a 'staycation' with the swipe of their MetroCard, a place to visit the beach, boardwalk, amusement park and aquarium, and now listen to live music.
This summer, the amphitheater will feature a wide range of guests, including Wiz Khalifa and Gladys Knight and the O'Jays. Click here for a full list.
Forest Hills Stadium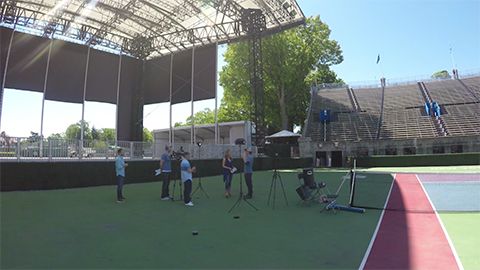 If visiting America's playground isn't for you, Forest Hills Stadium provides a much different atmosphere.
If you've ever played or watched tennis, you know cheering and blasting music at a match will most likely earn you some dirty looks. So imagine a tranquil tennis club with grass courts overlooking a rocking concert venue that's welcomed some of the biggest names in music. It's a unique dynamic, but somehow it works.
As the tennis players are wrapping up their matches and drills for the day, they hear sound checks for that night's concert in the background. Once the tennis is over, the grass courts transform into a great lawn where people eat and drink before the shows start. If you splurge for a VIP ticket, your VIP room feels less like a concert box and more like a miniature living room with a rustic aesthetic.
Forest Hills Stadium also has a storied past. It was built in 1923 and eventually became the home of the U.S. Open before the tennis tournament moved to Flushing Meadows-Corona Park.
In the 1960s, the stadium began hosting a series of concerts with music legends, including Frank Sinatra, Bob Dylan, The Who, The Beatles, The Rolling Stones and Jimi Hendrix.
The concerts stopped in the 1990s, but they were revitalized in 2013, and now draw in some of today's biggest stars, including Drake and The Chainsmokers.
Forest Hills Stadium is an iconic piece of New York City's history, graced by champions both on the court and in concert.
Click here for a list of this summer's concerts.
Pier 17, South Street Seaport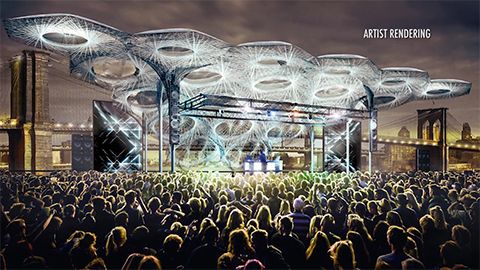 If you don't feel like leaving Manhattan, a brand new state-of-the-art rooftop venue will be opening in the South Street Seaport this August called Pier 17.
Shows from Amy Schumer, Kings of Leon and more will kick off a lineup that extends into the fall. Click here for a full list.
Learn more about New York City's arts and culture scene on Spotlight NY, Saturdays and Sundays at 7 p.m.