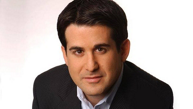 Emmy Award-winning journalist John Schiumo is a long-time NY1 anchor and host.
For nearly 12 years he hosted "The Call," the industry's first interactive newscast where viewers decided the lead story. The live, prime-time show included viewer phone calls, e-mails, and Tweets on issues that matter most to New Yorkers.
"The Call" marked Schiumo's second launch of a newscast on NY1 News, after hosting more than 800 live shows as the founding host of "New York Tonight."
John reported live from the World Trade Center site during the September 11th attacks and filed reports on the recovery effort from lower Manhattan for two months.
In April 2005, he reported live from Rome on the funeral of Pope John Paul II and the election of Pope Benedict XVI. Schiumo won an Emmy in 1999 for contributing to NY1's "Outstanding Sports Program" on the life of Joe DiMaggio. In July 2001, the City Council honored him with a proclamation for uncovering anti-Semitic graffiti in Brooklyn.
Other memorable assignments include live reports from Nova Scotia on the crash of Swiss Air Flight 111, from Rhode Island on the crash of Egypt Air Flight 990, from Tampa Bay for Super Bowl XXXV, and from four ticker-tape parades up the Canyon of Heroes.
Schiumo is also an adjunct professor at CUNY's Graduate School of Journalism. Prior to that, he lectured on producing television news at City College in Harlem. John was raised on Staten Island and graduated from SUNY Buffalo with honors.
You can follow him at http://www.twitter.com/Schiumo
Charter Spectrum customers get full access
to all our video, including our live stream.