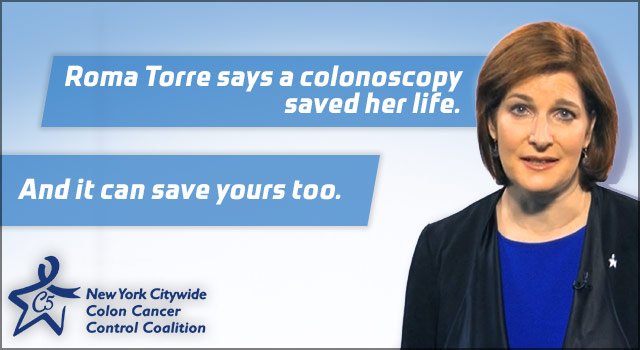 Last year NY1's Roma Torre underwent a routine screening colonoscopy and was diagnosed with colon cancer.
Now cancer-free, Roma is joining with NY1 this month to promote New York City's Colon Cancer Awareness campaign, to urge all New Yorkers age 50 and older to call their doctors to get a colonoscopy.
Getting screened for colon cancer can help prevent colon cancer — or detect it early when it's highly curable.
If you're 50 or older, please call your doctor to get your colonoscopy.
Roma did it, and it saved her life. It could save your life, too.
For more information on colon cancer screening, call 311 or visit c5nyc.org/yourturn.
When Roma was diagnosed with colon cancer in the summer of 2014, she began recording a video diary of her ordeal.
This month, Roma is sharing her experience to encourage others to get screened as part of New York City's Colon Cancer Awareness campaign. The clips below are expanded versions of those seen in the report running this week on NY1.
Roma on City Health Beat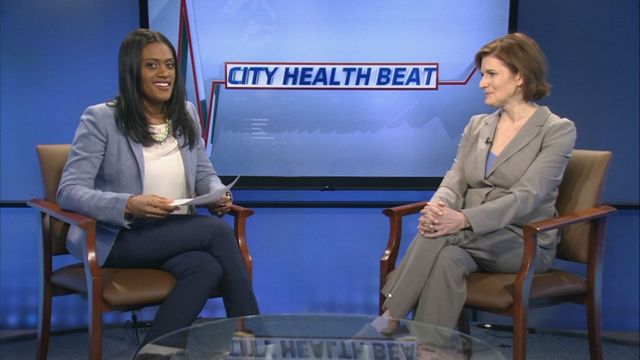 In this inaugural episode of City Health Beat, NY1's own Roma Torre discusses her battle against colon cancer, plus host Erin Billups looks at a Supreme Court case that could end up impacting the cost of healthcare.
Monday, March 9, 2015 at 03:05 PM EDT
Looking Back: How NY1 Covered Roma's News
@ny1 Not having a colonoscopy is scarier than having one. Because of family history of colon cancer, I've had two. (And I'm ok.) #ididit

— ebdoherty (@ebdoherty) March 7, 2015
@NY1 bc of my family history I'm at more than a 30% higher risk than the average person. had 1st colonoscopy at 25. early detection!

— tara. (@taraturtell) March 2, 2015
@NY1 don't forget about early screening pre-50 for those at higher risk! if my dad had waited til 50 he would have died.

— tara. (@taraturtell) March 2, 2015
@kshaughnessy2 @NY1 @torre_roma @NY1onstage #IDidit My FIRST colonoscopy found cancerous polyp.Lost 4" of colon, no chemo, now cancer free.

— Ricky Babaloo (@RickyBabaloo) March 2, 2015
A colonoscopy led to a Stage 1 rectal cancer diagnosis and saved my life at 43. Get screened! #ididit @NY1 @torre_roma

— Teresa Toro (@eTeresaToro) March 2, 2015
Hey @NY1 @ErinEBillups #IDidIt Good report. It was an easy exam that didn't take long to perform. No discomfort. Zero side effects.

— Michael Benjamin (@SquarePegDem) March 2, 2015
@NY1 @torre_roma #ididit I got screened last year after my 50th. All the best Roma. You can fight this.

— ShenGen (@NaughtyLadie) March 3, 2015
@NY1 #ididit I put off colon screening for a year, I was terrified but when I finally had it done I found it to be easy and pain free. #doit

— Realtorlady (@realtorladylee) March 2, 2015



NY1 is working with the NYC Department of Health & Mental Hygiene, the Citywide Colon Cancer Control Coalition, the NYC Health and Hospitals Corporation, and the American Cancer Society to remind all New Yorkers age 50 and over get screened for this preventable disease.
Tune to NY1 and visit this page all month long for special reports on the importance of colon cancer screening.
Charter Spectrum customers get full access
to all our video, including our live stream.