Etan Patz Murder Case - The Evidence
View evidence in kidnapping and murder trial of Pedro Hernandez as part of NY1's in-depth coverage of the Etan Patz murder case.
Following a tip from a brother-in-law of Pedro Hernandez, NYPD Detectives picked up Pedro Hernandez at his New Jersey home on the morning of May 23, 2012.
They brought him to the Camden County Prosecutor's office for questioning that began at 8 a.m.
At 10:30 a.m., Assistant Manhattan District Attorney Armand Durastanti arrived, according to court testimony.
You will see in the video, police began taping the interview at 2:53 p.m. with Pedro Hernandez waiving his Miranda Warnings.
The video is the first taped confession with authorities. The prosecution claims it shows the guilt Hernandez carried for, at that point, almost 33 years. The defense claims it shows pressure applied by seasoned cops to a man with a 70 IQ.
After Pedro Hernandez confessed to the NYPD on video in New Jersey, and confessed on video in NYC to Assistant Manhattan District Attorney Armand Durastanti, he took authorities on a tour of pertinent locations in SoHo.
A "quick thinking" member of the NYPD recorded the tour of the "crime scene" with a cell phone.
The recording begins at the corner of West Broadway and Prince Street. That is where the bodega, in which Hernandez worked on May 25th, 1979, was located. Etan Patz's school bus stop was just feet north of the intersection on the west side of West Broadway. Hernandez shows investigators the doors to the bodega basement where he said he lured the 6 year old.
He also shows them the path he remembers that he walked with the boy's body in a bag, in a box, on his shoulder. Turning onto Thompson Street, he pointed to a box saying it was a box like that, that he used.
He stopped in front of the location he says he dumped Etan. He said it was an alley-like walkway, several steps down. The prosecution told jurors the address was 115 Thompson Street and Hernandez said, it didn't have a door in 1979. Assistant District Attorney Joan Illuzzi-Orbon said her research shows Hernandez was correct, there was no door, and that knowledge amounts to corroborating evidence of a crime, because to know that information, he must have committed the crime. The defense disagrees, saying Hernandez's hallucination is wrong because he points to 113 Thompson Street, which was a bakery and could not have been the alleyway discussed.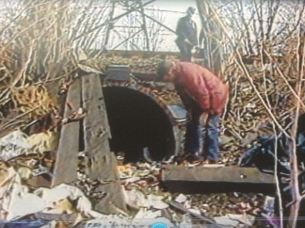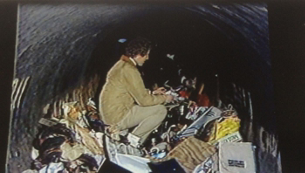 The defense of Pedro Hernandez's alternative theory of the crime introduced to try to establish reasonable doubt in the minds of jurors:
In 1982, a Bronx woman called police and said a man was trying to lure two children into a drainpipe in Van Cortlandt Park. Police discovered Jose Ramos took a child's bookbag and said, if he wanted it back, he would have to come to the drainpipe to get it.
Jose Ramos lived in that drainpipe. Police brought him in for questioning.
This is a portion of the recorded interview.
In it, police discuss about a half dozen "photo booth" pictures of children Ramos had in his wallet. One of them resembled Etan Patz. It turns out, it was a picture of a child named Barrett Harrington. Ramos admitted he had a relationship with the child's mother, Susan Harrington. That turned into a connection between Ramos and Etan. Susan Harrington would walk Etan home from school during the school bus driver's strike that preceded Etan's disappearance. He became a suspect.
Court testimony showed Jose Ramos was molesting Barrett Harrington. In 1986, Ramos was convicted of molesting another young child. He was later convicted of secually assaulting another child. There was never enough evidence to criminally charge Ramos with Etan's disappearance. Ramos is still in prison.
Years ago, the family of Etan Patz sued Ramos civilly for the death of Etan. A default judgement was issued against Ramos. The judge in the Pedro Hernandez trial did not allow the jury to know about the civil suit.
Charter Spectrum customers get full access
to all our video, including our live stream.