The City Poll: New Yorkers on Best and Worst of de Blasio's Term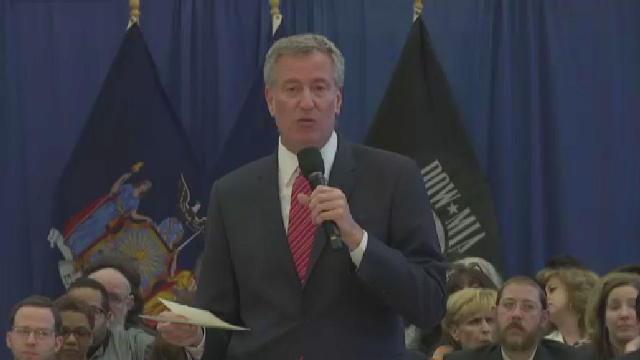 NY1/Baruch College Poll

What is the best thing that has happened under Mayor de Blasio's watch so far?
Vision Zero 8%
Municipal ID card 5%
Lowering the crime rate
while reducing stop & frisk 19%
Universal Pre-K 25%
Building affordable housing 14%
Expanding bike lanes 3%
Not sure 13%
Refuse 0%
What is the worst thing that has happened under Mayor de Blasio's watch so far?
Rise in homelessness 29%
Unethical fundraising 9%
Expanding bike lanes 7%
Rise in cost of living 29%
Not enough space for
charter schools 4%
Not sure 12%
Refuse 0%
How much credit does Mayor de Blasio deserve for the city's record low crime rate?
All 5%
Most 14%
Some 44%
Only a little 14%
None 17%
Not sure 5%
Refuse 0%
How much blame does Mayor de Blasio deserve for the rise in homelessness?
All 7%
Most 11%
Some 42%
Only a little 20%
None 12%
Not sure 7%
Refuse 0%
Who deserves more blame for problems with the subways?
Governor Cuomo 31%
Mayor De Blasio 33%
Not sure 32%
Refuse 3%
Margin of error: +/- 3.5%
As Mayor Bill de Blasio runs for a second term, New Yorkers tell us what they think are the best and worst things that have happened in the city on his watch, and whether the mayor deserves credit or blame for them. Our Grace Rauh has the story on our exclusive NY1/Baruch College City Poll.
As Mayor de Blasio sees it, creating universal pre-kindergarten for all four-year-olds was a signature accomplishment of his first term. It turns out, New Yorkers agree.
Universal pre-k topped the list of the best things New Yorkers think have happened on de Blasio's watch. A lower crime rate with less reliance on stop-and-frisk came in second. 
The mayor recently announced plans to expand the universal pre-k program to three-year-olds.
"Given the enormous support for universal pre-k, I can certainly see why he wants to extend it," Baruch College pollster Mickey Blum said.
But just because something positive happened while de Blasio occupied City Hall does not mean New Yorkers give him all the credit for it. Take crime, for instance.
44 percent of residents say de Blasio deserves some credit for the drop in crime; 17 percent say he deserves none.
As for the worst thing that has happened under the mayor? The rise in homelessness tied for first with an increase in the cost of living. Nine percent of New Yorkers said unethical fundraising.
New Yorkers do not necessarily blame de Blasio entirely for the spike in homelessness, although he does not escape unscathed. 42 percent says he deserves some blame; 20 percent say only a little.
"While he might not be responsible for homelessness itself, the fact that homelessness has gone up is something that he gets some of the blame for," Blum said.
De Blasio is, however, getting the lion's share of the blame for problems with the subway system, even though the sprawling transportation system is largely controlled by Gov. Cuomo.
33 percent of New Yorkers say de Blasio deserves more of the blame for subway troubles; 31 percent say Cuomo does.
As for the future of the city, New Yorkers are divided over the most important problem facing the five boroughs this year.
Affordable housing (15 percent) tops the list, followed by crime (13 percent), jobs and the economy (12 percent), and homelessness (nine percent).
Charter Spectrum customers get full access
to all our video, including our live stream.