An on-time state budget could be in jeopardy as lawmakers vote this evening in Albany ahead of their midnight deadline.
08:21 PM
The Civilian Complaint Review Board is now investigating a video that appears to show a plainclothes officer losing his temper on a Uber driver.
08:43 PM

Queens
Police in Queens are investigating after a 70-year-old woman was fatally shot in the head early this morning after answering the door to her home.
Updated 12:57 PM

New York City
Nearly two dozen people have been indicted in an alleged Medicaid fraud scheme that targeted some of the city's most vulnerable residents.
09:22 PM
New York State
Governor Andrew Cuomo is reacting to Indiana's controversial religious freedom law by barring any non-essential state-funded travel to the area.
04:53 PM

It's widely expected Hillary Clinton will soon announce her second bid for the White House, and there's already serious talk that her headquarters will be in an area she once represented: New York—specifically, Brooklyn. The choice would spotlight a new campaign theme she hopes will make this presidential run more successful than the last.
06:42 PM

The investigation into last week's deadly building explosion is now focusing on a gas line that may have been improperly tapped.
07:32 PM

Local elected officials are calling for an increase in penalties to try to stop trespassing on bridges.
05:39 PM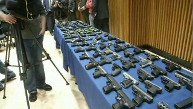 IN THE SPOTLIGHT
After years of declines in crime, the number of shootings in the city is up 7 percent so far in 2015. Police seized fewer illegal guns last year, which raises the questions: Are shootings up because there are more guns on the street? Are fewer guns being seized because stop-and-frisk policing has largely ended?