The state's highest court granted a motion to delay the program's full rollout which was supposed to happen next month.
08:43 AM
The city DOT has unveiled a dramatic redesign for a 1.3 mile section of Queens Boulevard, named a priority corridor under the "Vision Zero" traffic safety plan.
08:24 AM

Queens
Police say a domestic dispute Tuesday night led a man to shoot his wife and stepdaughter before hanging himself inside their Queens apartment.
Updated 09:17 AM

New York State
Lawmakers brought it down to the wire, but ultimately passed the state budget on-time for a fifth straight year in a row.
01:12 AM

Queens
The city fire department is trying to figure out what sparked a house fire that killed a man in Queens early Wednesday morning.
07:31 AM

Brooklyn
The NYPD is investigating a shooting Tuesday night in Brooklyn that left two people wounded and the alleged shooter dead.
07:05 AM

Queens
The results are in and the president of Nigeria lost his re-election bid - ending a race closely watched around the world including here in New York, in part, because of the huge terror threat facing the African nation.
11:11 AM

Manhattan
More than 60 brand new cars and trucks will be introduced for the first time at this year's New York International Auto Show.
12:54 PM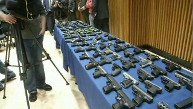 IN THE SPOTLIGHT
After years of declines in crime, the number of shootings in the city is up 7 percent so far in 2015. Police seized fewer illegal guns last year, which raises the questions: Are shootings up because there are more guns on the street? Are fewer guns being seized because stop-and-frisk policing has largely ended?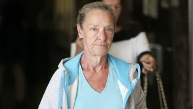 ETAN PATZ COVERAGE
Etan Patz's mother testified Tuesday for the prosecution in the trial of the man charged with murdering her boy nearly 36 years ago.
03/31/2015 11:37 PM
SHOWS & FEATURES

NY1 previews the day on Wall Street from the floor of the New York Stock Exchange.
07:40 AM

A lack of running water had some Harlem tenants tapped out until they turned to NY1 For You for help.
03/31/2015 05:39 PM

Time Warner Cable News wraps up the day on Wall Street from the floor of the New York Stock Exchange.
03/31/2015 05:09 PM
THE CALL EPISODES
John Schiumo hosts the March 30, 2015 episode of The Call.
03/30/2015 11:18 PM

Tune to NY1 on TV, online, on our app, or on LOD for:
• On Stage Across America featuring a preview of "Gigi," on Local On Demand Channel 1020.

TOP-RANKED STORIES
VOTE FOR YOUR TOP STORY FOR "THE CALL" SHOW