Behind the scenes at City Hall, a communications consultant and his public relations firm, BerlinRosen, wield tremendous influence. NY1's Grace Rauh has more on the firm's co-founder, Jonathan Rosen, and the calls for reform from government watchdogs.
06:27 PM
Mullin is the school's all-time scoring leader and led them to their last Final Four in 1985.
Updated 10:42 PM

Staten Island
A new music video features members of Eric Garner's family expressing what they describe as a lack of justice in his case.
07:19 PM

New York City
Police officials on Wednesday unveiled preliminary results of the NYPD's new gunfire detection program.
10:52 PM

Staten Island
The mayor and DOT Commissioner say six new round trips will be added on the ferry each week, beginning May 1.
05:12 PM

Brooklyn
Hillary Clinton lent her voice to the cause of early childhood education—and offered a peek into whether her plans to run again for president will involve a headquarters in Brooklyn.
08:49 PM

The Bronx
The Bronx is now home to four golf courses, as the long-awaited course developed by Donald Trump on city-owned land opened Wednesday, and while the views are breathtaking, you'll have to pay a lot if you want to play.
07:26 PM

New York City
The state's highest court granted a motion to delay the program's full rollout which was supposed to happen next month.
08:43 AM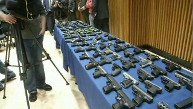 IN THE SPOTLIGHT
After years of declines in crime, the number of shootings in the city is up 7 percent so far in 2015. Police seized fewer illegal guns last year, which raises the questions: Are shootings up because there are more guns on the street? Are fewer guns being seized because stop-and-frisk policing has largely ended?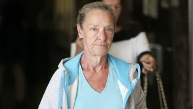 ETAN PATZ COVERAGE
Etan Patz's mother testified Tuesday for the prosecution in the trial of the man charged with murdering her boy nearly 36 years ago.
03/31/2015 11:37 PM
SHOWS & FEATURES

Time Warner Cable News wraps up the day on Wall Street from the floor of the New York Stock Exchange.
07:28 PM

NY1 previews the day on Wall Street from the floor of the New York Stock Exchange.
07:40 AM

A lack of running water had some Harlem tenants tapped out until they turned to NY1 For You for help.
03/31/2015 05:39 PM
THE CALL EPISODES
John Schiumo hosts the March 30, 2015 episode of The Call.
03/30/2015 11:18 PM

Tune to NY1 on TV, online, on our app, or on LOD for:
• On Stage Across America featuring a preview of "Gigi," on Local On Demand Channel 1020.

TOP-RANKED STORIES
VOTE FOR YOUR TOP STORY FOR "THE CALL" SHOW