An on-time state budget could be in jeopardy as lawmakers vote this evening in Albany ahead of their midnight deadline.
08:21 PM
The Civilian Complaint Review Board is now investigating a video that appears to show a plainclothes officer losing his temper on a Uber driver.
08:43 PM

Queens
Police in Queens are investigating after a 70-year-old woman was fatally shot in the head early this morning after answering the door to her home.
Updated 12:57 PM
New York State
Governor Andrew Cuomo is reacting to Indiana's controversial religious freedom law by barring any non-essential state-funded travel to the area.
04:53 PM

New York City
It's widely expected Hillary Clinton will soon announce her second bid for the White House, and there's already serious talk that her headquarters will be in an area she once represented: New York—specifically, Brooklyn. The choice would spotlight a new campaign theme she hopes will make this presidential run more successful than the last.
06:42 PM

The investigation into last week's deadly building explosion is now focusing on a gas line that may have been improperly tapped.
07:32 PM

Local elected officials are calling for an increase in penalties to try to stop trespassing on bridges.
05:39 PM

A coyote spotted on a Queens rooftop Monday is still on the loose.
11:46 AM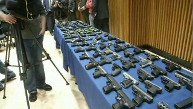 IN THE SPOTLIGHT
After years of declines in crime, the number of shootings in the city is up 7 percent so far in 2015. Police seized fewer illegal guns last year, which raises the questions: Are shootings up because there are more guns on the street? Are fewer guns being seized because stop-and-frisk policing has largely ended?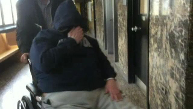 ETAN PATZ COVERAGE
The defense rested Monday in the Etan Patz murder case after calling another jailhouse informant to the witness stand.
03/30/2015 06:17 PM
SHOWS & FEATURES

A lack of running water had some Harlem tenants tapped out until they turned to NY1 For You for help.
05:39 PM

Time Warner Cable News wraps up the day on Wall Street from the floor of the New York Stock Exchange.
05:09 PM

Adam Balkin hosts Time Warner Cable's monthly STEM round-up, which takes a look at what STEM experiences South by Southwest has to offer; Connect a Million Minds' launch of a STEM-learning book in conjunction with the nonprofit 826 National; students at the Intel Science Talent Search showing off their science projects as they compete for six-figure awards; and FIRST Robotics enthusiasts battling their way through regionals across the country for a spot in the finals in St. Louis in April.
01:26 PM
THE CALL EPISODES
John Schiumo hosts the March 30, 2015 episode of The Call.
03/30/2015 11:18 PM

Tune to NY1 on TV, online, on our app, or on LOD for:
• On Stage Across America featuring a preview of "Gigi," on Local On Demand Channel 1020.

TOP-RANKED STORIES
VOTE FOR YOUR TOP STORY FOR "THE CALL" SHOW