Lawmakers brought it down to the wire, but ultimately passed the state budget on-time for a fifth straight year in a row.
01:12 AM
A 35-year-old woman has been charged with second degree murder in the death of her one-year-old son, who died Monday after being found unresponsive inside a Midtown restaurant.
Updated 03/31/2015 07:45 PM

Manhattan
A coworker of one of the men believed to have died in last week's deadly East Village explosion is opening up about the moments before tragedy struck—as the investigation hones in on a gas line that may have been improperly tapped.
12:39 AM

New York City
The Civilian Complaint Review Board is now investigating a video that appears to show a plainclothes officer losing his temper on a Uber driver.
03/31/2015 08:43 PM

New York City
A retired NYPD detective vacationing in Puerto Rico died while heroically trying to save a boy from drowning.
03/31/2015 09:43 PM

Nearly two dozen people have been indicted in an alleged Medicaid fraud scheme that targeted some of the city's most vulnerable residents.
03/31/2015 09:22 PM

Tuesday night was the first debate between the men vying to replace Michael Grimm in Congress.
12:44 AM

It's widely expected Hillary Clinton will soon announce her second bid for the White House, and there's already serious talk that her headquarters will be in an area she once represented: New York—specifically, Brooklyn. The choice would spotlight a new campaign theme she hopes will make this presidential run more successful than the last.
03/31/2015 06:42 PM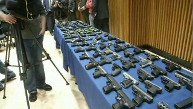 IN THE SPOTLIGHT
After years of declines in crime, the number of shootings in the city is up 7 percent so far in 2015. Police seized fewer illegal guns last year, which raises the questions: Are shootings up because there are more guns on the street? Are fewer guns being seized because stop-and-frisk policing has largely ended?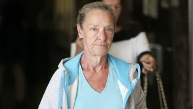 ETAN PATZ COVERAGE
Etan Patz's mother testified Tuesday for the prosecution in the trial of the man charged with murdering her boy nearly 36 years ago.
03/31/2015 11:37 PM
SHOWS & FEATURES

A lack of running water had some Harlem tenants tapped out until they turned to NY1 For You for help.
03/31/2015 05:39 PM

Time Warner Cable News wraps up the day on Wall Street from the floor of the New York Stock Exchange.
03/31/2015 05:09 PM

Adam Balkin hosts Time Warner Cable's monthly STEM round-up, which takes a look at what STEM experiences South by Southwest has to offer; Connect a Million Minds' launch of a STEM-learning book in conjunction with the nonprofit 826 National; students at the Intel Science Talent Search showing off their science projects as they compete for six-figure awards; and FIRST Robotics enthusiasts battling their way through regionals across the country for a spot in the finals in St. Louis in April.
03/31/2015 01:26 PM
THE CALL EPISODES
John Schiumo hosts the March 30, 2015 episode of The Call.
03/30/2015 11:18 PM

Tune to NY1 on TV, online, on our app, or on LOD for:
• On Stage Across America featuring a preview of "Gigi," on Local On Demand Channel 1020.

TOP-RANKED STORIES
VOTE FOR YOUR TOP STORY FOR "THE CALL" SHOW