The East Village explosion and fire destroyed a number of stores and forced many nearby businesses to shut their doors, and while the owners are tallying their losses, they are just thankful they're alive.
07:22 PM
Two people are listed as being unaccounted for as investigators keep looking into Thursday's explosion in the East Village that injured at least 22 people and brought down three buildings.
Updated 05:57 PM

Manhattan
The FDNY is investigating a fire that broke out early Friday morning on the top floor of an apartment building on East 66th Street.
06:48 AM

Manhattan
Fire officials say 19 people are injured, four in critical condition, following an explosion and building collapse in the East Village.
Updated 12:49 AM

Manhattan
NY1's Michael Herzenberg reports from the scene of Thursday's explosion and fire in the East Village, where witnesses said they didn't know was happening as the fire spread.
12:28 AM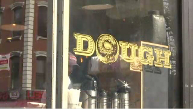 IN THE SPOTLIGHT
As NY1 continues to mark Women's History Month, NY1's Jeanine Ramirez reports on the gender divide in the number of women-owned businesses in the city and the efforts to bridge the gap.
03/26/2015 03:28 PM
SHOWS & FEATURES

The dust in the East Village didn't have to settle before we saw our fellow New Yorkers go above and beyond to help their neighbors in distress.
10:46 PM

Time Warner Cable News wraps up the day on Wall Street from the floor of the New York Stock Exchange.
06:09 PM

NY1 previews the day on Wall Street from the floor of the New York Stock Exchange.
07:39 AM
THE CALL EPISODES
John Schiumo hosts the March 26, 2015 episode of The Call.
03/26/2015 11:24 PM