McDonald's says it's serving up a raise for some of its workers, but some city protesters say the new policy isn't what they ordered.
04/01/2015 11:41 PM
The mayor and DOT Commissioner say six new round trips will be added on the ferry each week, beginning May 1.
Updated 04/01/2015 11:12 PM

Manhattan
The medical examiner has identified 27-year-old Moises Locon as the second victim killed in last Thursday's explosion in the East Village.
04/01/2015 06:52 PM

Manhattan
As investigators in the East Village building explosion continue to probe the cause, sources tell NY1 there was no authorized gas service to the apartments above the sushi restaurant where the deadly blast took place.
Updated 04/01/2015 05:30 PM

Manhattan
More than 60 brand new cars and trucks will be introduced for the first time at this year's New York International Auto Show.
04/01/2015 12:54 PM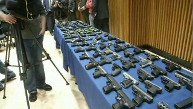 IN THE SPOTLIGHT
After years of declines in crime, the number of shootings in the city is up 7 percent so far in 2015. Police seized fewer illegal guns last year, which raises the questions: Are shootings up because there are more guns on the street? Are fewer guns being seized because stop-and-frisk policing has largely ended?
03/30/2015 11:35 PM
SHOWS & FEATURES

Time Warner Cable News wraps up the day on Wall Street from the floor of the New York Stock Exchange.
04/01/2015 07:28 PM

NY1 previews the day on Wall Street from the floor of the New York Stock Exchange.
04/01/2015 07:40 AM

A lack of running water had some Harlem tenants tapped out until they turned to NY1 For You for help.
03/31/2015 05:39 PM
THE CALL EPISODES
John Schiumo hosts the March 30, 2015 episode of The Call.
03/30/2015 11:18 PM

Tune to NY1 on TV, online, on our app, or on LOD for:
• On Stage Across America featuring a preview of "Gigi," on Local On Demand Channel 1020.