NY1's Lori Chung spoke with Blake Farber, an East Village resident who witnessed Thursday's explosion and building collapse.
10:33 PM
Tensions between Jews and Muslims are high in parts of the world, but program aimed at children in New York is trying to bridge the gap.
09:31 PM

Manhattan
Mayor Bill de Blasio, Fire Commissioner Daniel Nigro, NYC Office of Emergency Management Commissioner Joseph Esposito and other officials address the media after an explosion and building collapse in the East Village.
07:18 PM

New York City
An investigation is underway after some incredible pictures posted by Animal New York were credited to two people who apparently scaled the RFK Triborough Bridge last week without being detected.
07:16 PM

Manhattan
One of New York City's oldest pre-schools is closing this summer, and parents aren't happy about it.
02:56 PM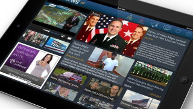 IN THE SPOTLIGHT
Watching NY1 News on the go is easy with the Time Warner Cable News app, featuring a live stream of the news channel and on-demand weather and video content from NY1.com.
SHOWS & FEATURES

One Queens commercial property owner is relieved after NY1 For You helped her to clear up a costly error.
07:23 PM

Time Warner Cable News wraps up the day on Wall Street from the floor of the New York Stock Exchange.
05:31 PM

NY1 previews the day on Wall Street from the floor of the New York Stock Exchange.
07:36 AM
THE CALL EPISODES
John Schiumo hosts the March 25, 2015 episode of The Call.
03/25/2015 10:59 PM
Tune to NY1 on TV, online, on our app, or on LOD for:
• On Stage Across America featuring a preview of "Gigi," on Local On Demand Channel 1020.