Identification is still pending for one of the two victims found in the rubble of Thursday's building explosion in the East Village as crews keep sifting through debris and begin cleaning up the site.
Updated 11:16 AM
MTA "Fastrack" repairs will disrupt late night service on the E, F, M, and R lines over the next two weeks.
07:18 AM

New York City
Citi Bike is expected to announce plans for future improvement of the program this afternoon.
06:50 AM

New York City
Twenty-three-year-old Nicholas Figueroa has been identified as one of the two bodies found Sunday at the site of Thursday's building explosion in the East Village. A second body has not been identified.
Updated 03/29/2015 08:15 PM

New York City
An eyewitness is stepping forward for the first time with a detailed account of jumping in and helping moments after the blast. He spoke exclusively to NY1's Mahsa Saeidi.
03/29/2015 05:19 PM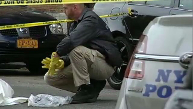 IN THE SPOTLIGHT
After years of stunning declines in crime, the number of shootings has increased in the first three months of the year, putting some of those hard-won gains at risk. Now, warmer weather is around the corner, a time when gun violence often increases. The NYPD says it has a plan.
03/29/2015 06:44 PM
SHOWS & FEATURES

NY1 previews the day on Wall Street from the floor of the New York Stock Exchange.
09:28 AM

In this edition of City Health Beat, host Erin Billups looks at how an actor's private decision made public is raising awareness and prompting discussion about reducing your cancer risk through surgery, and much more.
03/28/2015 05:30 PM

The dust in the East Village didn't have to settle before we saw our fellow New Yorkers go above and beyond to help their neighbors in distress.
03/27/2015 10:46 PM
THE CALL EPISODES
John Schiumo hosts the March 26, 2015 episode of The Call.
03/26/2015 11:24 PM
Tune to NY1 on TV, online, on our app, or on LOD for:
• On Stage Across America featuring a preview of "Gigi," on Local On Demand Channel 1020.