A Manhattan man says he was attacked by a pack of baby squirrels after they got inside his East Harlem apartment.
10:58 AM
Two people remain unaccounted for as crews continue to clear the rubble of Thursday's building explosion in the East Village that injured 22 people, four critically. Crews are trying to reach the basement where the blast is thought to have occurred.
10:43 AM

Manhattan
Two people are listed as being unaccounted for as investigators keep looking into Thursday's explosion in the East Village that injured at least 22 people and brought down three buildings.
Updated 12:22 AM

Manhattan
The former federal agent who led the FBI's investigation of the September 11th attacks testified in the Etan Patz case Friday, testifying on behalf of accused murderer Pedro Hernandez.
03/27/2015 10:15 PM

Manhattan
Investigators are trying to figure out what sparked a fire on the top floor of an apartment building on the Upper East Side.
03/27/2015 09:53 PM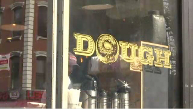 IN THE SPOTLIGHT
As NY1 continues to mark Women's History Month, NY1's Jeanine Ramirez reports on the gender divide in the number of women-owned businesses in the city and the efforts to bridge the gap.
03/26/2015 03:28 PM
SHOWS & FEATURES

In this edition of City Health Beat, host Erin Billups looks at how an actor's private decision made public is raising awareness and prompting discussion about reducing your cancer risk through surgery, and much more.
05:30 PM

The dust in the East Village didn't have to settle before we saw our fellow New Yorkers go above and beyond to help their neighbors in distress.
03/27/2015 10:46 PM

Time Warner Cable News wraps up the day on Wall Street from the floor of the New York Stock Exchange.
03/27/2015 06:09 PM
THE CALL EPISODES
John Schiumo hosts the March 26, 2015 episode of The Call.
03/26/2015 11:24 PM