A coworker of one of the men believed to have died in last week's deadly East Village explosion is opening up about the moments before tragedy struck—as the investigation hones in on a gas line that may have been improperly tapped.
12:39 AM
Police need help finding a man they say threatened and robbed a woman with a baby at a bank in Manhattan.
03/31/2015 09:48 PM

Manhattan
A 35-year-old woman has been charged with second degree murder in the death of her one-year-old son, who died Monday after being found unresponsive inside a Midtown restaurant.
Updated 03/31/2015 07:45 PM

Manhattan
According to published reports, cable company Cablevision plans to offer one dollar for the struggling Daily News.
03/31/2015 07:55 AM

New York City
The Federal Emergency Management Agency has approved a $3 billion grant to fix and upgrade city housing authority buildings damaged by Hurricane Sandy.
03/31/2015 07:25 AM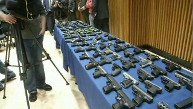 IN THE SPOTLIGHT
After years of declines in crime, the number of shootings in the city is up 7 percent so far in 2015. Police seized fewer illegal guns last year, which raises the questions: Are shootings up because there are more guns on the street? Are fewer guns being seized because stop-and-frisk policing has largely ended?
03/30/2015 11:35 PM
SHOWS & FEATURES

NY1 previews the day on Wall Street from the floor of the New York Stock Exchange.
07:40 AM

A lack of running water had some Harlem tenants tapped out until they turned to NY1 For You for help.
03/31/2015 05:39 PM

Time Warner Cable News wraps up the day on Wall Street from the floor of the New York Stock Exchange.
03/31/2015 05:09 PM
THE CALL EPISODES
John Schiumo hosts the March 30, 2015 episode of The Call.
03/30/2015 11:18 PM

Tune to NY1 on TV, online, on our app, or on LOD for:
• On Stage Across America featuring a preview of "Gigi," on Local On Demand Channel 1020.