A 35-year-old woman has been charged with second degree murder in the death of her one-year-old son, who died Monday after being found unresponsive inside a Midtown restaurant.
Updated 07:45 PM
The investigation into last week's deadly building explosion is now focusing on a gas line that may have been improperly tapped.
07:32 PM

Manhattan
According to published reports, cable company Cablevision plans to offer one dollar for the struggling Daily News.
07:55 AM

New York City
The Federal Emergency Management Agency has approved a $3 billion grant to fix and upgrade city housing authority buildings damaged by Hurricane Sandy.
07:25 AM

Manhattan
Police are looking for a man they say robbed a Manhattan drug store by claiming to have HIV.
03/30/2015 11:25 PM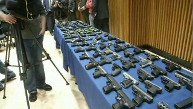 IN THE SPOTLIGHT
After years of declines in crime, the number of shootings in the city is up 7 percent so far in 2015. Police seized fewer illegal guns last year, which raises the questions: Are shootings up because there are more guns on the street? Are fewer guns being seized because stop-and-frisk policing has largely ended?
03/30/2015 11:35 PM
SHOWS & FEATURES

A lack of running water had some Harlem tenants tapped out until they turned to NY1 For You for help.
05:39 PM

Time Warner Cable News wraps up the day on Wall Street from the floor of the New York Stock Exchange.
05:09 PM

Adam Balkin hosts Time Warner Cable's monthly STEM round-up, which takes a look at what STEM experiences South by Southwest has to offer; Connect a Million Minds' launch of a STEM-learning book in conjunction with the nonprofit 826 National; students at the Intel Science Talent Search showing off their science projects as they compete for six-figure awards; and FIRST Robotics enthusiasts battling their way through regionals across the country for a spot in the finals in St. Louis in April.
01:26 PM
THE CALL EPISODES
John Schiumo hosts the March 30, 2015 episode of The Call.
03/30/2015 11:18 PM

Tune to NY1 on TV, online, on our app, or on LOD for:
• On Stage Across America featuring a preview of "Gigi," on Local On Demand Channel 1020.