A fire at Barnard College forced a dorm on West 116th Street to be evacuated late last night.
03/04/2015 06:05 AM
Two auxiliary police officers have been arrested for allegedly robbing and handcuffing a food delivery man in East Harlem.
03/03/2015 11:59 PM

Manhattan
A man who police believe was a window washer is dead after falling from a building in Manhattan.
Updated 03/03/2015 06:16 PM

Manhattan
A Brooklyn man has been charged in the beating death of a transgender woman attacked in Harlem in 2013.
03/03/2015 05:34 PM

Manhattan
Police are asking for the public's help tracking down three men who robbed a jewelry store on the Upper East Side.
03/02/2015 11:16 PM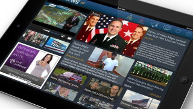 IN THE SPOTLIGHT
Watching NY1 News on the go is easy with the Time Warner Cable News app, featuring a live stream of the news channel and on-demand weather and video content from NY1.com.