Citi Bike announced plans for future improvement of the program Monday.
03/30/2015 07:12 PM
Staten Island District Attorney Dan Donovan likes to recite a big statistic on the campaign trail as he runs for Congress: his felony conviction rate, the highest in the city. But there's more to that number than immediately meets the eye.
03/30/2015 07:11 PM

Brooklyn
More than a dozen people were injured after a car crashed into a bus Monday morning in Brooklyn.
03/30/2015 01:06 PM

New York City
MTA "Fastrack" repairs will disrupt late night service on the E, F, M, and R lines over the next two weeks.
03/30/2015 07:18 AM

Brooklyn
There were some frightening moments at Coney Island Opening Day, when the world famous Cyclone malfunctioned Sunday, leaving riders stuck.
03/29/2015 03:55 PM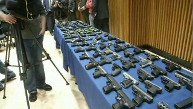 IN THE SPOTLIGHT
After years of declines in crime, the number of shootings in the city is up 7 percent so far in 2015. Police seized fewer illegal guns last year, which raises the questions: Are shootings up because there are more guns on the street? Are fewer guns being seized because stop-and-frisk policing has largely ended?
03/30/2015 11:35 PM
SHOWS & FEATURES

Time Warner Cable News wraps up the day on Wall Street from the floor of the New York Stock Exchange.
05:09 PM

Adam Balkin hosts Time Warner Cable's monthly STEM round-up, which takes a look at what STEM experiences South by Southwest has to offer; Connect a Million Minds' launch of a STEM-learning book in conjunction with the nonprofit 826 National; students at the Intel Science Talent Search showing off their science projects as they compete for six-figure awards; and FIRST Robotics enthusiasts battling their way through regionals across the country for a spot in the finals in St. Louis in April.
01:26 PM

NY1 previews the day on Wall Street from the floor of the New York Stock Exchange.
07:44 AM
THE CALL EPISODES
John Schiumo hosts the March 30, 2015 episode of The Call.
03/30/2015 11:18 PM

Tune to NY1 on TV, online, on our app, or on LOD for:
• On Stage Across America featuring a preview of "Gigi," on Local On Demand Channel 1020.